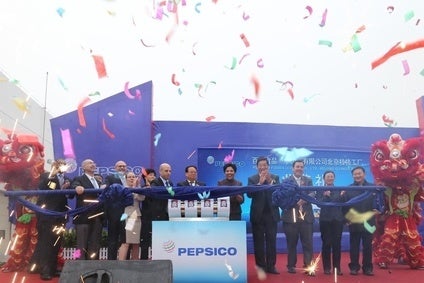 PepsiCo has opened its first Quaker Oats manufacturing plant in China.
The Cheetos owner said the plant would provide Chinese consumers with "healthy and nutritious products".
It is located in the Daxing district of Beijing and includes 30,000 square metres of production space. It has the capacity to produce 50,000 tons of Quaker oats annually and will produce a variety of Quaker products including Instant Oats, Quick Cooked Oats and Quaker's Cereal Powder Drink.
It will create approximately 150 jobs.
The plant opening comes less than two months after the launch of the Quaker High Fiber Oats Dairy Drink in the country, which was developed at the firm's R&D centre in Shanghai.
The company also announced that the PepsiCo Foundation will donate US$5m to support the Schwarzman Scholars, a one-year master's program at Tsinghua University in Beijing, designed to "prepare the next generation of global leaders for the challenges of the future".
The firm said the two announcements demonstrated PepsiCo's commitment to expanding its business in China – "positioning itself for long term sustainable growth while making a positive impact on society".
"Profitable companies of the 21st century will be those that align the needs of their business with the needs of the world around them," said PepsiCo chairman and CEO Indra Nooyi. "For more than 30 years, PepsiCo's investments in China have both strengthened our business and positively contributed to the country's development. Our new Quaker plant and the PepsiCo Foundation's work with Tsinghua University are the latest examples of how we are delivering Performance with Purpose – growing in China, for China and with China."