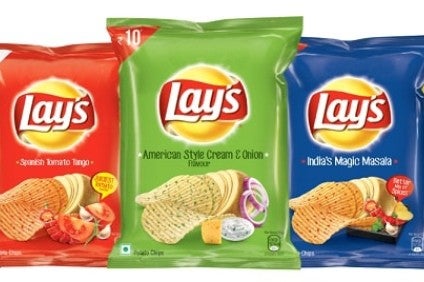 PepsiCo has set a target of lowering the salt in 75% of its snacks sold in India by 2025.
The US giant issued the goal as it launched two lower-in-salt flavours of Lay's snacks in the country.
The company did not provide details on how much it would reduce salt by, nor reveal which products would not see cuts in the ingredient.
Officials at PepsiCo's Indian arm had not returned a request for further comment at the time of writing.
In a statement announcing the two new Lay's products, PepsiCo said it had launched Lay's Indian Magic Masala and Spanish Tomato Tango variants, which contained "a better-enhanced" mix of spices and "13% to 15% lesser sodium respectively".
"As a responsible snacking company, PepsiCo India has made significant progress in transforming its snacks portfolio. We have reduced 5% to 25% sodium across popular variants of our snacks flagship brands, Lay's and Kurkure and we further aim at reducing sodium in 75% of our food's portfolio by 2025," Jagrut Kotecha, the vice president of PepsiCo's snacks business in India, said.
Last week, major food manufacturers operating in India, including Nestlé and Unilever as well as domestic players like Britannia Industries and ITC, pledged to reformulate their products to help tackle diet-related illness.
India's government launched an 'Eat Right Movement' to improve public health and combat disease linked to poor eating habits.