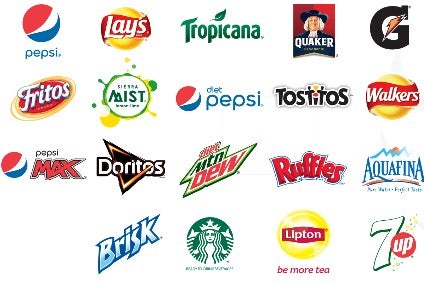 PepsiCo, the owner of Lay's crisps and Quaker cereal, plans to launch trials of 'traffic light' nutrition labels in more markets in Europe.
The US-based consumer-goods giant said in a statement today (28 November) it will begin trials of interpretative colour-coded labelling for food and beverages from the first quarter. The traffic-light format, which serves as guide to consumers on the content of fat, saturated fat, salt and sugar, was adopted voluntarily by PepsiCo in the UK and Ireland in 2014.
"We have started to plan for a broad representation of EU markets and PepsiCo products in our trials of traffic-light labelling," Paul Skehan, PepsiCo's senior director for EU public affairs, told just-food. "Labels will begin to appear in several EU member states from the first quarter of next year." The company would not specify which markets.

PepsiCo announced last week, along with Nestlé, Unilever, Mondelez International and Coca-Cola, the suspension of their trials of a separate Evolved Nutrition Label (ENL) system planned for select European countries.
The ENL grouping said in May it was seeking a Europe-wide harmonised front-of-pack labelling system to provide a consistent health and nutrition advisory format to eliminate confusion among consumers. That proposal would build on the existing EU reference intake scheme by adding colours to the numbers that reflect the nutrient content per actual portion consumed.
Under the traffic-light system, food and drink labels show the energy content of a consumer product represented in kilocalories and kilojoules, with green, amber and red colour-coding designating products that are deemed healthy and those that are considered less healthy. Unlike the reference intake scheme, it is based on the level of a nutrient for each 100-gram serving.
PepsiCo said in today's statement: "With this announcement, PepsiCo re-affirms its commitment to provide European consumers with important and understandable information to help people make informed choices, based on nutrient levels and the overall energy content of food and beverages."
An alternative labelling format – Nutri-Score – has been adopted by some food manufacturers and retailers in France, Belgium and Spain, and uses ratings from A to E to reflect the nutritional value of products.
Following the suspension of ENL trials last week, the non-governmental organisation Foodwatch issued a statement welcoming the decision, saying the campaign group "continues to push for a mandatory logo such as Nutri-Score on front of packaging throughout Europe".
Silviu Popovici, president of PepsiCo's Europe and Sub-Saharan Africa operations, said in today's statement the company is of the view the traffic-light system "will help consumers in other markets in Europe to decipher nutritional information easily and comprehensively".
He added: "We want to press on with giving consumers detailed nutritional information about the food and beverages they eat and drink. That is why we have decided to expand the use of a scheme that is already well-received in the UK and Ireland, and which bases the colour coding on the nutrient values per 100g/ml rather than by portion size.

"It remains our goal to work with other stakeholders to align on an EU-wide front-of-pack interpretative labelling scheme and we are open to sharing our learnings from the trial to support this EU-led process. In the meantime, we invite other companies operating in the European market also to use this well-established traffic-light model, to help build broad consumer awareness about the scheme."