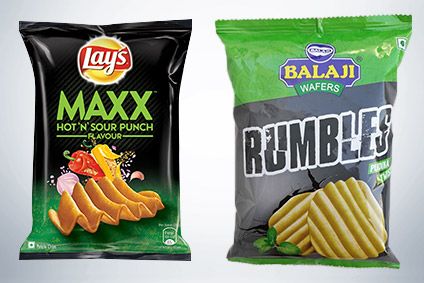 A snacks firm in India has been ordered to halt the production and marketing of one of its brands after claims from PepsiCo the product was too close to its Lay's Maxx crisps.
In an interim order, the Bombay High Court has said Balaji Wafers must suspend the manufacturing and selling of its Rumbles crisps, pending a final verdict.
PepsiCo filed a lawsuit last month in which the US giant claimed the design of a Rumbles crisp was too similar to its Lay's Maxx snacks, which were launched in India in 2015. The court said last week the Rumbles crisp was similar and ordered Balaji Wafers to cease production and marketing ahead of a definitive ruling.
A spokesperson for PepsiCo's India business confirmed the company had filed the suit and the group's stance to just-food but did not comment further.
Speaking to Indian business newspaper The Economic Times, Balaji Wafers managing director Chandu Virani said: "PepsiCo is worried about our growing share, hence they are doing this. Why will we copy them? Our design is not similar to theirs."