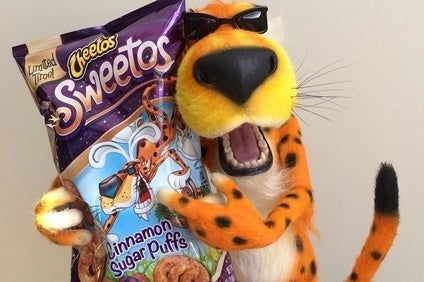 PepsiCo has announced the launch of a sweet snacking option under its Frito-Lay Cheetos brand in the US.
Cheetos, traditionally available in cheese-flavour based formats has introduced Cheetos Sweetos, a cinnamon-sugar puff.
"Whether it's our Cheetos Bag of Bones Halloween-themed snack or first-of-its-kind Cheetos Mix-Ups product, we're always looking for ways to add some playful fun to the snack aisle," said Jeff Klein, vice president of marketing, Frito-Lay. "So this year – in true Cheetos fashion – we decided to turn spring snacking on its head with the most unexpected treat in decades. Move over chocolate bunny, there's a sweet new snack in town."
Cheetos Sweetos snacks will be available in retail stores nationwide beginning mid-February for a limited time in 7-ounce bags for a suggested retail price of $3.49.