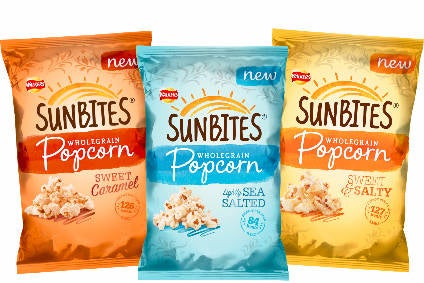 PepsiCo today (17 October) outlined a series of targets on selling healthier food and drinks and on trying to make its business more sustainable in areas including sourcing, water and waste.
Announcing a new "2025 sustainability agenda", the company revealed it wants the sales growth of its so-called "everyday nutrition" products to outpace the sales growth in the balance of its portfolio. Everyday nutrition products include those that deliver whole grains, fruits and vegetables, dairy, protein and hydration, the Lay's, Walkers and Quaker owner said.
In 2010, PepsiCo chairman and CEO Indra Nooyi had set a more formal target of treble the group's US$10bn in sales of healthy food and drinks – products including orange juice and oatmeal – over a decade.
PepsiCo also wants to improve the nutritional profile of its existing stable of snack and soft drink products. The company wants "at least three-quarters" of food products it sells to contain 1.1 grams of saturated fat per 100 calories or less by 2025. PepsiCo has also set a target for 75% of food to contain less than 1.3 milligrams of sodium per calorie. Across its beverage portfolio, which includes brands such as Mountain Dew and Pepsi Max, the company has said it wants 12-ounce servings to contain 100 calories or less.
The group's 2025 goals also include targets to mitigate the impact of its operations on the environment. PepsiCo plans to improve the water efficiency of its agricultural supply chain and of its manufacturing operations by 15% and 25% respectively by 2025. The company also intends to cut "absolute greenhouse gas emissions" across its "value chain" by at least 20% by 2030, send zero waste to landfill by 2025 and cut food waste from its direct operations by 50% by the same year.
On sourcing, PepsiCo pledged to sustainably source both "direct and major non-direct agricultural raw materials" by 2020 and 2025, respectively. The company added: "Building on its earlier goal, PepsiCo also intends to invest in the necessary measures to complete its plans to sustainably source 100% of the palm oil and cane sugar it purchases by 2020."
PepsiCo said it will extend its sustainable farming initiative and ensure all franchisees and joint venture partners adhere to the principles of the company's supplier code.
"To succeed in today's volatile and changing world, corporations must do three things exceedingly well: focus on delivering strong financial performance, do it in a way that is sustainable over time and be responsive to the needs of society," PepsiCo chairman and CEO Indra Nooyi said. "Companies like PepsiCo have a tremendous opportunity – as well as a responsibility – to not only make a profit, but to do so in a way that makes a difference in the world."