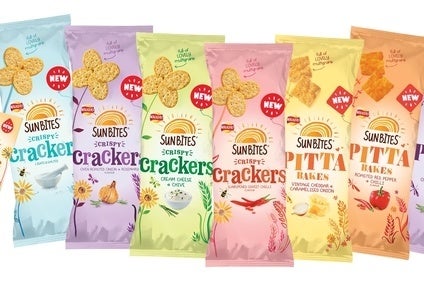 PepsiCo has decided to take its UK snack brand Walkers SunBites into the savoury biscuits category.
The company, which launched Walkers SunBites in 2007, has added three lines to the range – Crispy Crackers, Pitta Bakes and Crackers and Dip.
PepsiCo claimed SunBites had been a "huge success" and pointed to a 31% jump in sales in the last year.
Lee-Teng Chung, senior marketing manager at Walkers, said PepsiCo was launching the brand into a growing category.
"We believe the range extension will help further increase sales of the popular brand and we are excited to be launching into the savoury biscuits category which has grown 5.3% in the past year," Chung said. "We know consumers are seeking delicious snacks they don't feel guilty about eating, and that's exactly what Sunbites offers them. It felt natural to expand the exciting range with tasty products that are packed with wholegrain but still providing delicious bites that consumers love."
The Sunbites Crispy Crackers are available in four flavours in multipacks of five with an RSP of GBP1.89. The Pitta bakes have the same RSP and come in three flavours, sold in multipacks of five.
PepsiCo said the Crackers and Dip come in a box with Lightly Salted Crackers and a pot of salsa or chutney dip. They have an RSP of GBP1.49.