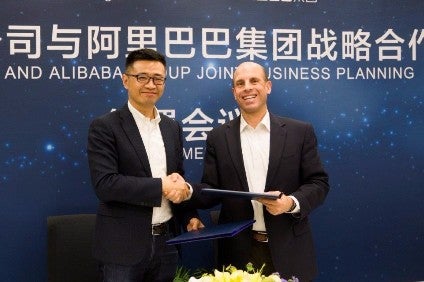 PepsiCo has become the latest multinational food giant to sign a "partnership" deal with Chinese online retailer Alibaba.
The Lay's and Quaker owner is hoping a new, "strategic agreement" with the world's largest online and mobile commerce company will help it grows its business in the huge Chinese market.
"Developing our e-commerce business is one of PepsiCo's strategic priorities," said Mike Spanos, the president and CEO of PepsiCo's business in the Greater China region. "Through this collaboration, we will fully take advantage of Alibaba's platform and data to carry out more innovative experiments, perfect PepsiCo's products and services and enhance online consumer experiences. Our joint effort with Alibaba will help us lead the ever-changing consumer trend and better serve Chinese consumers."
The tie-up, according to PepsiCo, will enable it to "further enhance consumer experiences" by accessing Alibaba's data to introduce what it describes as "innovative marketing initiatives, customised products and integrated omnichannel solutions."
Jet Jing, a vice president at Alibaba, said: "Alibaba Group is committed to enabling brands by helping them leverage our big data capabilities and omnichannel solutions to further drive strategic growth in the China market."
PepsiCo and Alibaba already have an existing partnership via the establishment of a store on the retailer's Tmall platform five years ago. The company has also extended its reach to consumers in rural China via Alibaba's Rural Taobao programme, an online market place which has enabled Chinese living in poor rural outposts to sell their goods online.
Last year, Mondelez International struck a similar partnership with Alibaba, while a couple of months later Mars also teamed up with the e-commerce outfit.
China now has over 500 million online shoppers, making it the biggest e-commerce market in the world, both by number of consumers and spending – and the market is still expanding.