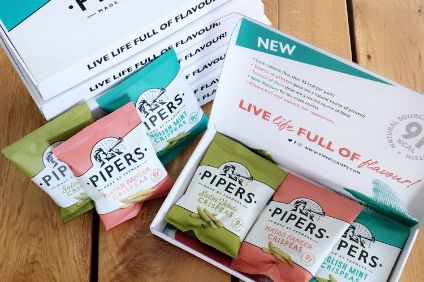 Food and beverage giant PepsiCo is buying up UK crisp brand Pipers for an undisclosed sum.
The deal is subject to clearance from UK watchdog, The Competition and Markets Authority, a process PepsiCo expects to run into the early part of 2019, the Nasdaq-listed firm said in a statement this afternoon (5 November).
PepsiCo's latest deal comes less than a week after it announced the purchase of US-based "superfood" snacks maker Health Warrior. In May, the company expanded its snacking portfolio with the acquisition of Bare Snacks, also in the US.
Pipers was founded in 2004 by three farmers – Alex Albone, Simon Herring and James Sweeting – who joined forces to make a UK crisp brand from locally-sourced potatoes. The company now supplies pubs, restaurants, cafes, hotels and farm shops in the UK, and is also present in overseas markets.
James McKinney, the managing director of Pipers, said: "We've developed innovative products to suit evolving tastes while establishing a strong foothold in the market. PepsiCo's commitment to accelerating the growth of the Pipers brand means more people will be able to enjoy the unique, award-winning flavour of Pipers crisps."
PepsiCo said its acquisition of Pipers will complement its existing savoury snacks portfolio. It said it will seek to accelerate Pipers' growth in the UK and develop the business' export markets.
According to the most recent publicly-available accounts for Pipers, the business generated a turnover of GBP11.4m (US$14.9m) in the year to 31 January 2018, up from GBP9.8m 12 months earlier.
The accounts show Pipers made an operating profit of GBP508,637, versus GBP536,149 the previous year. The firm's profit was GBP372,185, against GBP431,398 a year earlier.
Higher administrative expenses and a larger tax bill ate into earnings. The accounts show Pipers did business in "more than 41 countries worldwide" during the year.
It added: "As for many businesses of our size, the business environment in which we operate continues to be challenging. Competition in premium crisps remains significant, with costs of entry low and channels that are relatively easy to access. Pipers offsets these with a strong marketing programme to build customer loyalty along with strategies to minimise our exposure to a few key customers."
Cyrille Filott, global strategist for consumer foods at The Netherlands-based financial services group Rabobank, suggested PepsiCo's move for Pipers was another sign of the way the world's largest food companies are reshaping their portfolios.
Big food is becoming a collection of super large brands and small brands. This one is particularly interesting: locally-sourced potatoes; supplies food service not food retail.

PepsiCo to buy UK crisp maker Pipers https://t.co/OTevYsuKVg via @just_food

— Cyrille Filott (@Cyrille_Filott) November 6, 2018