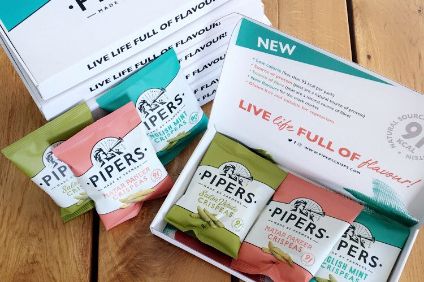 The UK's competition watchdog has cleared PepsiCo's acquisition of snack brand Pipers.
Pipers, located in the UK county of Lincolnshire, came into the US-based food and drink giant's sights in December, but the deal was then referred for comment from any concerned parties over possible competition infringements.
But today (30 January), the Competition and Markets Authority (CMA) gave the green light for PepsiCo's purchase of Pipers, which supplies pubs, restaurants, cafes, hotels and farm shops in the UK, and also exports overseas.
Financial details of the transaction have not been disclosed.
Pipers was founded in 2004 by three farmers – Alex Albone, Simon Herring and James Sweeting. Nasdaq-listed PepsiCo said in December the Pipers crisp brand would complement its existing savoury snacks portfolio.
James McKinney, the managing director of Pipers, said when the deal was announced that "PepsiCo's commitment to accelerating the growth of the Pipers brand means more people will be able to enjoy the unique, award-winning flavour of Pipers crisps".
PepsiCo has been extending its snacking portfolio in recent months. Outside of the UK, it snapped up US-based "superfood" snacks maker Health Warrior after its acquisition of Bare Snacks, also located in the US.