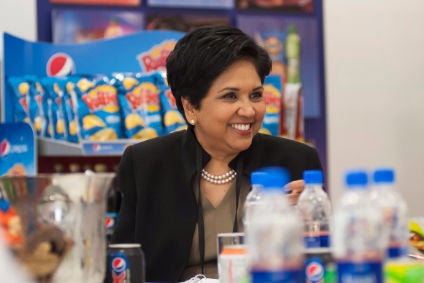 PepsiCo chairman and CEO Indra Nooyi is to join an advisory panel for Donald Trump just weeks after she unwittingly sparked a social media storm over the US President-elect.
Nooyi will join a number of top business executives on Trump's Strategic and Policy Forum. Also joining the panel today (14 December) is Tesla's Elon Musk and Uber CEO Travis Kalanick.
Launched in early December, the forum is designed to offer economic advice to Trump, who will take over from Barack Obama as US President in January. According to an initial announcement, the panel will "be called upon to meet with the President frequently to share their specific experience and knowledge as the president implements his plan to bring back jobs and Make America Great Again".
Nooyi was hit with a social media backlash from Trump supporters last month when she reportedly told an audience in the US that in the wake of the presidential election, "we should mourn for those of us who supported the other side. But we have to come together and life has to go on".
Speaking at a conference held by The New York Times a week after Trump was elected President, Nooyi said: "I had to answer a lot of questions, from my daughters, from my employees, they were all in mourning. Our employees are all crying, and the question that they are asking, especially those that are not white: 'Are we safe?' Women are asking, 'Are we safe?' LGBT people are asking, 'Are we safe?' I never thought I'd have had to answer those questions."
Some social media users were angered by the comments, as well as by fake comments wrongly attributed to Nooyi.
How will Trump's presidency affect the global food industry? – analysis