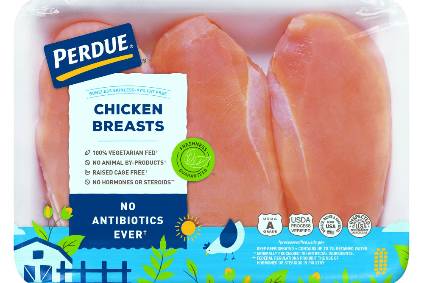 Perdue Farms has invested in what the US poultry processor says is growing demand for its antibiotic-free products.
The privately-owned business has spent US$25m on expanding its operations in Dillon County in South Carolina.
Perdue Farms enlarged its portioning and marinating, added a shipping cooler, installing automated pallet storage and building office space.
"The expansion will help us meet the growing demand for no-antibiotics-ever chicken products, and maintain the high level of customer service and reliability our customers in South Carolina and across the country expect from Perdue," CEO Randy Day said.
Perdue Farms is among a number of US poultry processors to have reviewed the use of antibiotics in supply chains amid concerns of resistance in humans.
In a position statement on the Perdue Farms website, the company states: "All of the animals for our branded products are raised in no-antibiotics-ever programs, including chicken, turkey, pork and beef. We also offer a full range of no-antibiotics-ever products for foodservice operators, including restaurants, schools, colleges and universities and hospitals."