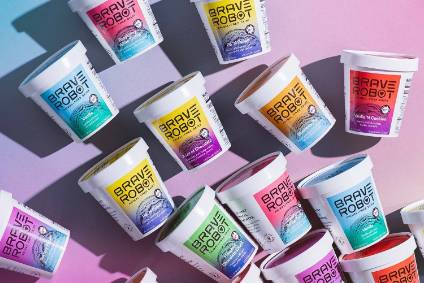 The owners of Perfect Day, the US animal-free dairy start-up, have helped launch an ice-cream business using the fledgling firm's ingredients.
The Urgent Company is selling its Brave Robot ice cream, containing an animal-free whey protein from Perfect Day, in retailers in San Francisco's Bay Area, with plans to launch in the south west of the US next month.
Perfect Day co-founders Ryan Pandya and Perumal Gandhi have set up The Urgent Company with former Glanbia and Aseptic Solutions executive Paul Kollesoff.
Through Perfect Day, Pandya and Gandhi have invested in The Urgent Company, which has raised "a few million" in a "pre seed/seed round" of funding, which is still open, a spokesperson said. "They are continually looking for investments from individuals, companies and funds who share our vision for a better future."
In a post on Medium, Pandya said: "We helped coordinate a friends-and-family seed round to get the company off the ground. Perfect Day put some money in, but with strict walls around information sharing in the spirit of giving The Urgent Company its own set of wings.
"With a lot of work to do at Perfect Day, Perumal and I knew we'd need to stay focused. We had a business to run – and, now, so did Paul. We were insistent that The Urgent Company be set up as an independent company with its own team, mission, funding, board, and everything else."
Earlier this month, Perfect Day announced financial backing from the asset manager behind the Canada Pension Plan.
Perfect Day said the investment helped more than double the amount raised in its Series C round.
Canada Pension Plan Investment Board, also known as CPP Investments, led a new tranche of funding in the California-based start-up, which took the amount raised in the Series C from US$140m to $300m.
In July last year, Perfect Day launched on a limited basis an ice cream produced using the principles of cellular agriculture. According to the company, three flavours, available online at US$20 a pint, sold out in under 24 hours.
This May, California-based ice-cream firm Smitten said it would use Perfect Day's ingredients to create its first vegan and lactose-free products.