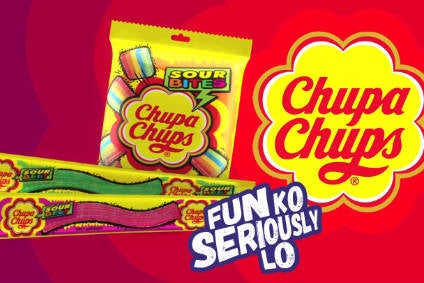 Confectionery giant Perfetti Van Melle has added to the range of products sold under its Chupa Chups brand in India with the launch of products available in other markets.
The Europe-based company has launched two "soft candy" lines – Sour Belt and Sour Bites – that the group said would help it create a new segment in India's confectionery sector.
Rohit Kapoor, Perfetti Van Melle's marketing director in India, said: "These are extremely successful formats in some international markets and it was indeed a challenge to bring these delightful offerings at mainstream price points in India. These offerings also provide us a perfect opportunity to carve out a new sweet-sour segment in the confectionery market."
The Sour Belt is sold in two pack formats. A single pack is available in two flavours – strawberry and mango – at INR5 (US$0.07). The product is also available in eight-piece tray pack, contains multi-coloured, mixed fruit-flavoured belts. The tray pack is priced at INR30. The mixed fruit-flavoured Sour Bites are available in a bag at INR10 and a larger pack at INR30.
Perfetti Van Melle launched the Chupa Chups brand in India this summer, rolling out a range of filled lollipops.
Ramesh Jayaraman, the managing director of Perfetti Van Melle's Indian business, had "received a very positive response from consumers". Jayaraman added: "With this launch now of Sour Bites and Belts, we are raising the innovation bar further. Substantial investment has been made in the manufacturing line, and we are delighted once more to be the first in India to bring a major innovation to the market. The Chupa Chups fun personality is inherent in these offerings and their distinctive shape and textures offer great scope for playful consumption."