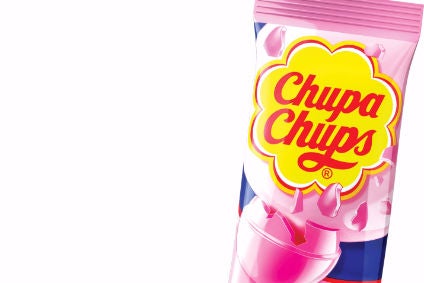 Confectionery giant Perfetti Van Melle launches one of its flagship brands, Chupa Chups, in India.
Perfetti Van Melle said it was targeting "the burgeoning lollipop market" in India. It is selling Chupa Chups bubble gum-filled lollipops in two flavours – strawberry and cherry. The products priced at INR5.
The company will support the launch of the lollipops with an "aggressive" marketing campaign starting at the end of August, Rohit Kapoor, marketing director for Perfetti Van Melle in India, said in a statement. "The brand will offer a truly differentiated experience to the consumers and would help develop the lollipop category further," Kapoor added.
Perfetti Van Melle is manufacturing the Chupa Chups on sale in India at its site in the town of Manesar, 40 kilometres south-west of New Delhi.
In a statement, Ramesh Jayaraman, managing director of Perfetti Van Melle's Indian business said: "Chupa Chups is one of our global power brands. India is a key market for us and we have decided to bring this popular brand to India. This is an important moment for us, as we plan to manufacture the product in India and wish to offer our consumers fun in the trademark Chupa Chups style. The unique bubble-gum filled lollipops have been specially created for our discerning Indian consumers."