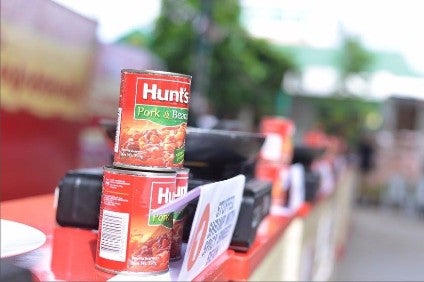 The Philippines licence to Conagra Brands' Hunt's brand has been acquired by local canned food group Century Pacific Food.
Century said it had bought the Hunt's licence from Hunt-Universal Robina Corporation, a 50-50 joint venture the US food group has with Philippines food and beverage group Universal Robina Corp.
Conagra launched Hunt's in the Philippines in 1984. Products including tomato sauce, marinade sauce and pork and beans are marketed under the brand.
"Hunt's is a welcome addition, with its local dominance in pork and beans, its emerging presence in condiments, and its potential to be another source of growth for us," CNPF president and CEO Christopher Po said. "We are excited to work with ConAgra to further grow the brand locally."
Universal Robina Corp. said Hunt's no longer fit its strategy. "We have recently conducted a strategic review of our portfolio and have shifted our focus to our core categories, namely snackfoods and beverages, which are geared towards convenience and on-the-go occasions. Given this shift, URC and ConAgra have decided to spin off Hunt's to CNPF as we believe that their strength in the grocery category can further add value and take the brand to new levels of growth in the years to come," Lance Gokongwei, Universal Robina Corp.'s president and CEO, said.
Asked by just-food why Conagra has offloaded the local licence to Century Pacific Food, Conagra said: "It was a business decision that made sense for us in that region."
Financial details were not disclosed.