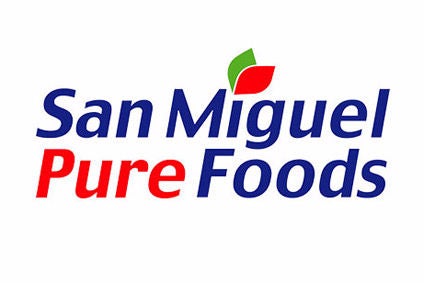 Philippines business San Miguel Corp. has confirmed the amalgamation of its food, beverage and liquor units into a new entity has been approved by shareholders.
In November, the Philippines' largest conglomerate said it planned to merge its San Miguel Pure Foods unit – which produces poultry, dairy products, processed meats and animal feeds – with San Miguel Brewery and liquor maker Ginebra San Miguel.
Following the approval of the merger by the board of directors of San Miguel Pure Foods on 3 November, shareholders gave the green light to the proposal on 18 January, according to a filing with the nation's securities regulator, which now needs to sign off on the transaction.
The new entity will be known as San Miguel Food & Beverage Inc.
San Miguel Food & Beverage will initially come out with a combined capital stock of PHP2.46bn (US$48.5m), divided into 2.06bn common shares with a par value of PHP1 each, and 40m preferred shares with a par value of PHP10 per share.
But in order to increase the trading liquidity of the common shares, the securities regulator now needs to approve the reduction in the par value of the shares to: PHP12bn of capital stock divided into 11.6bn common shares priced at PHP1 each, and 40m preferred shares at PHP10 each. That proposal will be presented to the regulator on 22 January.
Once the share swap is complete, San Miguel Food & Beverage will have to issue new shares to meet the minimum public ownership requirement of 15%. The size and timing of that offer has yet to be determined amid discussions with San Miguel Corp., and will also be subject to prevailing market conditions.
San Miguel Pure Foods' president Francisco Alejo said: "The company is targeting 15%, which is the minimum requirement. And then we will decide later on if there is an additional follow-on [offering] that is needed."
Ferdinand Constantino, the chief financial officer of San Miguel Corp., said San Miguel Food & Beverage has the potential to book up to PHP245bn in revenues this year, with PHP120bn coming from food, PHP100bn from beer, and the remaining PHP25bn from Ginebra San Miguel.