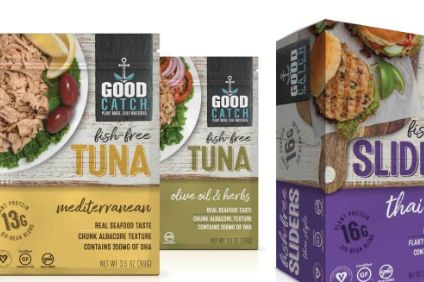 German poultry heavyweight PHW Gruppe is part of a syndicate of investing backing New York, plant-based 'seafood' business Good Catch.
It has taken part in a US$8.7m Series A funding round led by New Crop Capital and joined by retailers Thrive Market and Fresh Direct and investors Stray Dog Capital, Clear Current Capital, VegInvest, Rocana Capital, Blue Horizon, EverHope Capital, Baleine & Bjorn Capital, M13, and Starlight Ventures.
Good Catch, self-styled as the world's first food-tech brand to mimic the real taste and texture of tuna, suggests its early success represents the expansion of the plant-based megatrend into the seafood market segment, "a virtually uncontested space with international impact potential".
Good Catch co-founders and co-CEOs Chris Kerr and Eric Schnell said in a joint statement: "The only truly sustainable seafood is seafood that allows fish to remain in the ocean. It is abundantly clear that we need a new approach to seafood. This is a global concern, and we need global stakeholders to put this approach into action; time is not on our side."
The company was founded by the venture firm New Crop Capital, agency BeyondBrands, and with culinary innovation led by plant-based chefs Chad and Derek Sarno.
Paul Wesjohann of PHW Gruppe, said: "The equity investment in Good Catch is evidence of our forward-thinking strategy. Good Catch is consistent with our pursuit to provide the US with sustainable, clean foods.
"We do not see this transaction as a financial investment but rather as the beginning of a long-term strategic partnership."