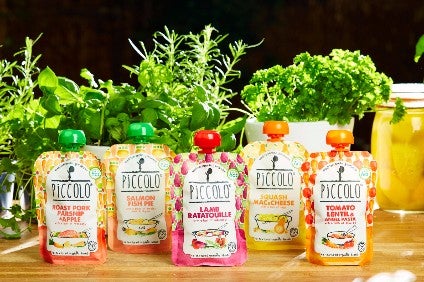 Piccolo has secured investment from DSG Consumer Partners, with the UK baby food firm eyeing markets in Asia.
Financial details, including the size of any stake DSG Consumer Partners now has in Piccolo, were undisclosed.
However, London-based Piccolo, which launched in April 2016, said the deal would help it "support [its] growth ambitions in the UK, as well as into new territories across South East Asia and India".
In July, Piccolo made Ireland its first overseas market after winning listings at SuperValu and Boots stores in the country.
Cat Gazzoli, the founder of Piccolo, said: "We want to grow big but stay feeling like a family, so we can continue to offer our quality ingredients and personal relationship with the parents that buy Piccolo pouches across the world."
DSG Consumer Partners raised its first fund in 2012 and closed its second earlier this year. Deepak Shahdadpuri, a seasoned private-equity executive and founder of DSG Consumer Partners, said Piccolo could become a "global" brand.
"As a father of three, I am only too aware of how important it is to introduce your little ones to quality food and flavours from the very beginning. This is one of the reasons I was so interested in Piccolo – I believe them to be a hugely exciting and innovative fast-growing company on the edge of huge growth, and I want to help them realise this potential," Shahdadpuri said.
Piccolo has built a UK business that includes listings with retailers including Asda and Morrisons. It has received the backing of the TV chef and cookery writer Prue Leith, as well as from Craig Sams, the founder of UK chocolate company Green & Black's, now owned by Mondelez International.
DSG Consumer Partners' other investments include giving backing to Indian food manufacturer Drums Food International, which manufactures Greek yogurt under the Epigamia brand.