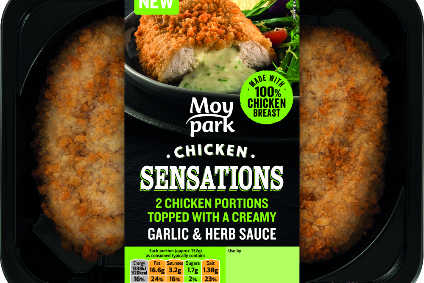 UK-headquartered poultry and prepared meals firm Moy Park has been bought by US chicken giant Pilgrim's Pride in a US$1.3bn deal.
PILGRIM 's has acquired Moy Park from Brazilian meat giant JBS , which also has a 78.5% stake in the US processor.
Pilgrim's – which boasts that it produces one in every five chickens sold in the US – said that the deal increases its geographic diversity by expanding its operations across the UK and continental Europe.
The company anticipates incremental annual revenue of approximately US$2bn as a result of the transaction and expects to achieve around US$50m in annualised synergies over the next two years, primarily from the optimisation of sourcing and production, and cost savings in purchasing, production, logistics and selling, general and administrative expenses.
Bill Lovette, Pilgrim's chief executive officer, said: "We are pleased to announce the acquisition of Moy Park, which will position Pilgrim's to become a global player, with an improved and more stable margin profile on the chicken business and an expanded portfolio of prepared foods.
"Following our successful acquisitions of GNP and the assets in Mexico, Moy Park represents a logical next step in the evolution of our geographical and brands footprint.
"The acquisition gives us access to the attractive UK and European markets, which advances our strategy of diversifying our portfolio to be more global while reducing volatility across our businesses.
"We will have new business opportunities through the addition of Moy Park's fully integrated poultry production platform and its strong presence in prepared foods.
"Moy Park strengthens Pilgrim's' leading portfolio of brands and brings strong value-added innovation capabilities, access to new markets, a best-in-class production platform and strong farmer partner relationships."
Janet McCollum, chief executive of Moy Park, said: "This announcement is a positive development for Moy Park and all our colleagues employed across the business.
"Pilgrim's is one of the leading chicken producers in the world with a proven track record and we see great opportunities for Moy Park as part of this successful business.
"Joining Pilgrim's gives us the opportunity to accelerate our growth plans, share best practices and leverage Pilgrim's expertise and operational excellence."
Founded in Northern Ireland in 1943, Moy Park is now one of the UK's major food companies and one of Europe's leading poultry producers.
It processes more than 5.7m birds per week and has 13 processing plants located in the UK, Ireland, France and the Netherlands supplying major food retailers and restaurant chains in the UK and Continental Europe.
Moy Park will remain headquartered in Craigavon, Northern Ireland, and the management team, including McCollum, will continue to lead the business. The rest of the Moy Park employee base will remain in place.
JBS announced back in June that it planned to offload Moy Park, amongst other assets, in a bid to beef up its finances.
It acquired a 64% stake in Pilgrim's Pride in 2009, since increasing its shareholding by 14.5%.