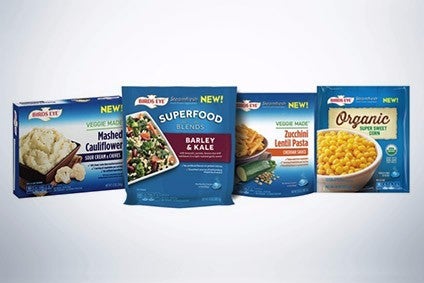 Pinnacle Foods is expanding the Veggie Made line of its Birds Eye brand in the US and introducing a Superfood Blends and Organic Vegetables range.
The new line up includes Birds Eye Steamfresh Veggie Made Pasta – in Original Zucchini Lentil Pasta, Spinach Lentil Pasta with Alfredo Sauce, Zucchini Lentil Pasta with Cheddar Sauce and Zucchini Lentil Pasta with Marinara Sauce varieties.
Birds Eye Veggie Made Mashed comes in variants of Original Cauliflower, Sour Cream & Chives Cauliflower, Roasted Garlic Cauliflower and Sweet Potatoes & Carrots with Brown Sugar.
Birds Eye Steamfresh Superfood Blends include Barley & Kale, Chick Peas & Spinach, Quinoa & Spinach and Black Rice & Edamame variants.
Birds Eye Steamfresh Organic Vegetables are available in Sweet Peas, Super Sweet Corn, Cut Green Beans and Mixed Vegetables variants.
Pinnacle said the Veggie Made products aim to provide "nutritious alternatives" to side dishes such as pasta, rice and mashed potatoes. The Organic Vegetables range is certified by the US Department of Agriculture as "grown with no pesticides, artificial hormones, antibiotics or GMOs".
The new range is currently available at select retailers and will soon be available nationwide, Pinnacle said.