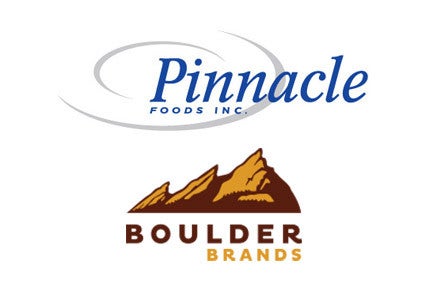 Annual sales at Pinnacle Foods jumped in 2015 but profits have been hit as the company lapped one-off gains last year.
Net income for the year fell to US$212.5m from US$248.4m a year earlier. EBIT fell to US$424.7m from US$512.3m due to Pinnacle receiving a fee from Hillshire Brands after the Jimmy Dean maker pulled the plug on its sale to the company. Excluding the impact of this, EBIT rose 4.6% to US$443.1m.
Net revenues rose to US$2.65bn from US$2.59bn year on year, with sales benefiting from the acquisition of Canada-based meat-free business Garden Protein International, the owner of the Gardein brand.
Pinnacle Foods CEO Bob Gamgort said: "This past year was another strong one for Pinnacle, driven by strength of the base business, highly-successful innovation and the addition of Gardein to our portfolio. We are excited about our recent Boulder Brands acquisition, which provides a stronger presence in faster-growing health and wellness categories and a rich source of both acquisition synergies and other cost savings opportunities. In 2016, in addition to improving Boulder's cost structure, our focus will be on streamlining the portfolio and building the foundation for accelerated growth in 2017. As a result, we expect Boulder to be modestly accretive this year, with significant accretion thereafter."
Q4 performance by segment
Duncan Hines Grocery: Sales -3.1% to US$295.8m. Lower sales of baking products due to category weakness. Further impacting were lower sales in Canadian business driven by unfavourable foreign exchange impact. EBIT +33% to $68.3m. EBIT adjusted for one-off items + 0.5% to $68.8m thanks to productivity savings, higher net price realisation and Wish-Bone synergies.
Specialty Foods: Sales +0.3% to US$82.9; higher net sales of the company's foodservice business, offset by lower net sales of snacks. EBIT +22% to $9.2m. Adjusted EBIT +0.5% to $9.1m thanks to "modest increase in net sales" and productivity savings.