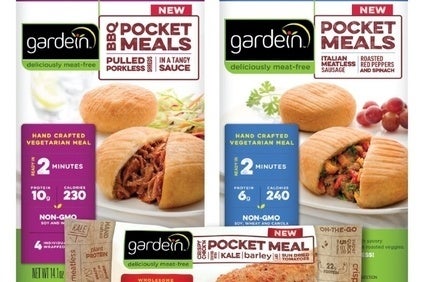 Pinnacle Foods CEO Bob Gamgort pointed said the US group outperformed its categories and grew gross margins in the third quarter, a period when group sales rose but volumes from its larger North America retail division came under pressure.
The company booked a 2% increase in net sales to US$636.3m for the three months to 27 September. Sales from the North America retail business were up 4.8% at $554.1m.
However, the recently-acquired meat-free business Gardein contributed 2.6 percentage points of that growth. Pinnacle also got a 0.9 point benefit from pricing. The company reported a one point fall from volume/mix.
Nevertheless, Gamgort said: "We are pleased with our performance in the quarter. Strong top- and bottom-line results in North America retail were driven by strength of the base business, including the benefit of our recently-launched innovation, and the Gardein acquisition. We again outpaced the performance of our composite categories, and we expanded our gross margin meaningfully. We remain confident in our outlook for the full year."
Pinnacle's gross margin stood at 27.8%, versus 26.3% in last year's third quarter.
The group's reported profit numbers looked weaker as the company was lapping last year's results when it booked a fee from Hillshire Brands. Hillshire paid a fee $155m for ending a deal that would have Pinnacle buy The Jimmy Dean maker and accepting a rival bid from Tyson Foods.
Excluding the fee and other items affecting comparability, EBIT grew 5.9% to $108m. Net earnings were up 14.6% at $54.6m.
The company continues to expect adjusted diluted earnings per share of $1.89 to $1.91 in 2015.
Shares in Pinnacle were down 3.9% at $42.85 at 11:54 EDT.