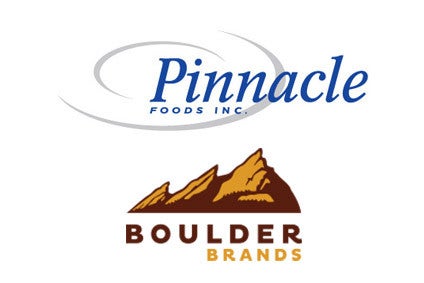 Pinnacle Foods has raised its earnings forecast for the year thanks to the "strength of the base business" and the recently-acquired Boulder Brands unit, which the US company said is "tracking ahead of expectations".
The Gardein meat-free maker said it now expects adjusted diluted EPS for 2016 to total US$2.10-2.15, up from previous forecasts of $2.08-2.13. This represents year-on-year earnings growth of 12%. The company stressed the guidance also provided it with the "flexibility" to increase investment spending in the second half of the year to "remain fully competitive".
Pinnacle said it was able to lift its outlook because it now expects a greater contribution from the Boulder Brands business, which consists of a stable of free-from and better-for-you brands. The company now expects Boulder to add between seven and eight cents to the bottom line, up from a nickel. The group also noted that the input cost inflation outlook has "improved" and is now expected to come in at the low end of its 2-3% range.
During the second quarter, net sales increased 19.7% to $756.4m. Boulder contributed 19.4% growth, while a 1.3% increase in prices of Pinnacle's other businesses was partially offset by lower volume/mix of 0.9% and unfavourable forex of 0.1%.
Operating profit increased 20% to $107.8m in the period. Pinnacle said this was achieved "despite a double-digit increase in marketing investment" driven by the base business and the inclusion of Boulder Brands. "This strong EBIT performance was driven by the growth in both net sales and gross margin in the second quarter, partially offset by the impact of items affecting comparability, particularly acquisition-related integration expenses," Pinnacle explained. Excluding such items, adjusted EBIT increased 31.9% to $114.8m.
Higher interest costs and a higher tax rate meant net earnings in the second quarter increased 4.8% to $45.8m. Excluding items affecting comparability, adjusted net earnings increased 19.2% to $50m.
Commenting on the results, CEO Mark Clouse stated: "We are pleased with our results in the second quarter, which reflected strong base business performance, including the benefit of innovation, as well as Boulder Brands results that exceeded expectations. Meaningful, broad-based gross margin expansion drove a double-digit increase in adjusted diluted EPS for the quarter, fuelling our confidence in the increased outlook we're providing for the year."