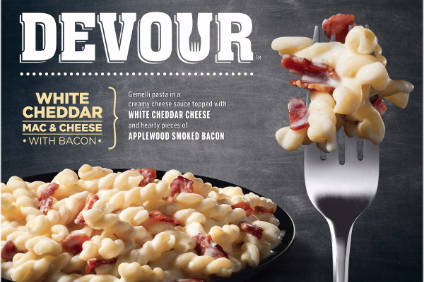 Pinnacle Foods is suing Kraft Heinz in the US over an alleged trademark infringement after the launch of the Devour frozen ready-meal range.
According to the lawsuit filed in a Michigan court, Kraft Heinz "directly, deliberately and blatantly" infringed trademarked Pinnacle' slogans when it launched its frozen meals product Devour last month and used the tagline trademark "Satisfy your cravings".
Pinnacle said in its statement of claim: "In a nutshell, the defendant [Kraft Heinz] is a direct competitor of Pinnacle. Pinnacle owns, among other brands, Hungry-Man in the frozen meals space, and claims its trademarked slogans 'Satisfy your craving' and 'Hungry-Man satisfy your craving'."
Pinnacle claimed "as a result of the quality and widespread consumption" of its products, the 'Satisfy your craving' marks have met with substantial commercial success and widespread consumer recognition".
According to Pinnacle's claim, the slogans used by it and Kraft Heinz are "indistinguishable from each other" and are "each source designators for frozen meals and entrees consisting, among of other ingredients, meat, poultry and/or pasta".
Pinnacle claimed: "The only conclusion that may be drawn from these correlations in brand and product is that the defendant purposely and aggressively tried to jump start its launch of its new Devour frozen product line using Pinnacle's tried and true trademark."
Pinnacle said in its claim that it learned of the alleged infringement in mid-August and on 23 August 23 sent through its counsel a demand letter asking that Kraft Heinz "cease and desist its infringement". According to Pinnacle, "the email with the letter was returned as undeliverable" and so the company sent a "replacement email" on 24 August.
There was subsequent contact between the firms' legal representatives, Pinnacle said. However, it claimed Kraft Heinz's "refusal to timely acknowledge, address and remedy the continuing infringement" left Pinnacle "with no choice but to file this complaint, seeking injunctive relief and damages resulting from the infringement".
Copies of documents from the United States Patent and Trademark Office, filed by Pinnacle with its claim, indicate the company registered the trademark 'Satisfy your craving' in May 2011 and registered 'Hungry-Man satisfy your craving' in June 2011.
A spokesperson for Kraft Heinz told just-food that the company had "no comment to share" on the case.