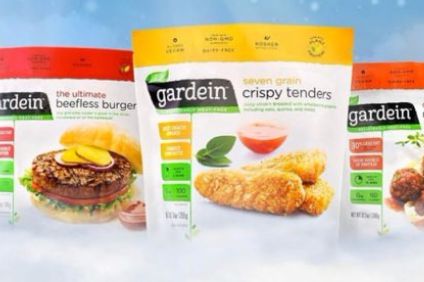 Pinnacle Foods, which owns the Birds Eye frozen food brand in the US, is hoping product innovation will add fuel to its sales growth in 2018.
Yesterday (1 March) the New Jersey-based company reported net sales for 2017 of US$3.14bn, a rise of just 0.5% over 2016's figure.
Pinnacle's net sales grew 2.5% when excluding the sales from the Aunt Jemima business it exited in May
In a post-results call with analysts CEO Mark Clouse described 2017 as "a year of mixed performance for us".
He said: "Our net sales did trail our consumption, particularly in Q4, as several key customers maintained lower retail inventory levels through year-end. This reflects the evolution of stricter service goals by retailers, enabling them to maintain lower inventory."
But he revealed Pinnacle has plans to boost its brands.
"Duncan Hines [Pinnacle's baking brand]'s strength was fuelled by the highly successful launch of Perfect Size for 1, which was recently named product of the year for 2018 in a survey of 40,000 consumers conducted by Kantar, an independent global leader in consumer insights," he said.
"To ensure the continued momentum of the brand, in 2018, we are expanding the line with additional varieties focused on breakfast and indulgent chocolate. We're also introducing a line of Perfect Size for 1 frostings and drizzles in 11 varieties. "
Clouse said Pinnacle would also be refreshing its Wish-Bone dressings brand during the year with "a combination of new graphics, a move to clean label on our flagship Italian varieties, and an overall optimisation of the product line.
"We believe that these actions will enhance our on-shelf presence and simplify shopability for consumers," he said.
Clouse said Pinnacle will also be supporting its Vlasic pickles brand with the launch of Vlasic Snack'mms, "a four-item line of popular flavours in a bite-size format".
And he said Pinnacle would be further backing Boulder Brands – the health and wellness foods business it bought in 2015 – with a "full slate of innovation behind the portfolio" including the recently introduced Udi's white and multigrain sandwich bread made with a new formula that "dramatically improves the taste and texture of gluten-free offerings in the market".
Clouse added: "We will also be launching exciting innovation behind [plant-based protein arm] Gardein and [better for you snacks and entrees brand] Evol.
"With Gardein, we are launching Skillet Meals, a tasty meat-free combination of plant-based proteins with a variety of crisp vegetables, grains, and pastas in flavourful sauces that can be prepared in just minutes.
"Evol will be launching a modern approach to bowls packed with everything you need for a more customised diet. Each bowl delivers a specific ingredient bundle to meet consumer needs, such as performance, energy, plant-based lifestyle, or simply balanced nutrition."
Looking at how Pinnacle sees its sales trajectory in 2018, CFO Craig Steeneck told analysts: "The impact of an earlier Easter in 2018 is expected to modestly benefit the first-quarter net sales of the frozen segment and to a lesser extent the grocery segment, due to the seasonal nature of these portfolios."
Pinnacle said it expects underlying net sales to grow ahead of category trends, and the benefit of $11m from "lapping the AJ recall" will also drive growth.
The company recalled a number of products sold under its Aunt Jemima frozen brand last spring in a listeria scare.