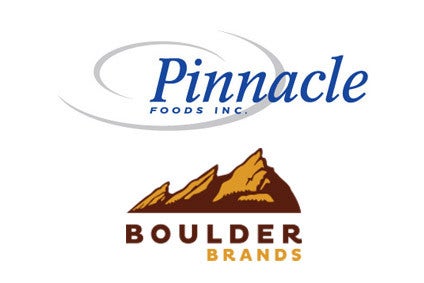 Pinnacle Foods said today (28 April) that it made a "solid" start to fiscal 2016, with sales boosted by the US group's recent acquisition of local peer Boulder Brands.
The company said sales increased 13.4% year-on-year, reflecting the Boulder deal which was announced in November and closed in January, as well as growth from its Birds Eye frozen foods business. Revenue increased to US$754.3m, compared to net sales of $665.3m last year. This growth was "partially" offset by lower revenue at its Duncan Hines grocery segment.
Operating earnings were down, however, on one-off costs. EBIT totalled $80.3 million, compared to EBIT of $88.5 million in the year-ago period. Adjusted operating profit increased 11.8% to $106.8m.
Commenting on the results, CEO Bob Gamgort said: "The first quarter marked a solid start to 2016, with both the base business and the integration of Boulder Brands very much on track. We again outpaced the performance of our categories, generating significant share growth in our North America retail business. Our gross margin also advanced significantly in the quarter, driven by productivity in excess of inflation, as well as favourable mix, including the addition of Boulder Brands."
Yesterday, Pinnacle announced the appointment of Mark Clouse, currently chief commercial officer at Mondelez International, to the position of CEO, effective 23 May. Clouse will replace Bob Gamgort, who is leaving the company at the end of this month.
"Knowing Mark well, I am confident that his leadership, combined with the strength of the Pinnacle team, will create an exciting future for the company," Gamgort said.
The company reaffirmed its full-year earnings outlook for adjusted diluted EPS for 2016 in the range of $2.08 to $2.13, representing year-on-year growth of approximately 10%.