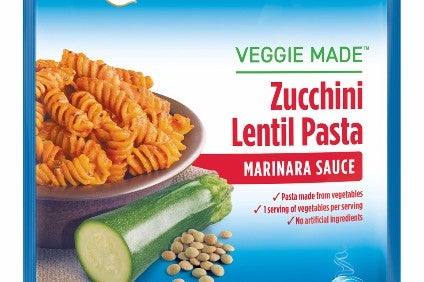 just-food publishes the most notable product development from the international food sector, presented in bitesize format to give you a flavour of the innovation from your peers and competitors announced this week.
Pinnacle brand Birds Eye creates new Veggie Made Pasta line for US
Pinnacle Foods is targeting those in the US looking for alternatives to pasta with the launch of a range of frozen pasta dishes made from vegetables.
Its Birds Eye Veggie Made Pasta meals are intended to "provide a healthy alternative to your family's favourite starchy sides".
The products, which come in four varieties, do not contain wheat or flour, fillers or any artificial ingredients. They are available from retailers throughout the US.
Fonterra's Western Star rolls out thickened cream
Fonterra is rolling out thickened cream under its Western Star brand in Australia.
"Cream is already one of the two main ingredients in Western Star butter, so it is a natural next step to expand the popular range," Fonterra said.
Site manager Bruce Manson said Western Star expanded the Cobden cool room to accommodate more dairy products after an investment of AUD6.2m (US$4.8m), and is now Fonterra's largest site in Australia, producing butter, milk, cream and powders.
Western Star Thickened Cream will initially be available from IGA, Super IGA and Foodworks stores from 13 November.
It comes in 300ml and 600ml pots.
Nancy's Petite Stuffed Bagels lean on Philadelphia
Nancy's Petite Stuffed Bagels filled with Philadelphia cream cheese arrived on US supermarket shelves in November catering to plain, spicy, savoury or fruity tastes.
Inspired by hostess turned baker Nancy Muller of San Francisco and ready to serve in minutes, they add to a range that includes Deli Spirals and Petite Quiche.
While the bagels all come with Philadelphia, the snacks designed to make entertaining easier are available in original, jalapeno, apple cinnamon, and pumpkin – the latter is exclusive to Wal-Mart Stores, brand owner Kraft Heinz said.
The suggested retail price is US$6.99.
Camel milk brand Camelicious heading to the UK
United Arab Emirates-based camel milk company Camelicious is bringing its first product to the UK market and has gained a 'big four' supermarket listing.
UHT long life camel milk will be available at 141 Asda stores, as well as "selected ethnic stores" in major cities. Camelicious is aiming to promote camel milk as a healthy alternative to cow's milk.
The company uses milk from the camel herd of its owner, Dubai ruler Sheikh Mohammed bin Rashid Al Maktoum. It will be backing the launch with an advertising campaign on the Islam Channel.
It is hoping to follow the launch of the milk with the introduction of camel milk ice cream into the UK next year.
A 235ml carton of long life camel milk will have a RRP of GBP2.85 (US$3.73).
Nestle appeals to Spanish hearts with Coulant chocolates
The Spanish unit of Swiss food giant Nestle reaches out to chocolate lovers with its Caja Roja Coulant range made with certified cocoa from Ghana and Ecuador.
They are made in an exclusive manufacturing process at La Penilla de Cayon, Cantabriato, to achieve a "surprising texture" that combines crunchy chocolate with a creamy filling.
Coulant comes in three varieties: dark chocolate, milk chocolate with caramel, and orange black chocolate, and are available at retailers in 142 gramme packs priced at EUR4.8 (US$5.6)
Finnish dairy Valio targets UK
Valio, the Finland-based dairy group, is set to take a range of products sold under its namesake brand to the UK.
The company said products "will appear on supermarket shelves in 2018", although at the time of writing it had not responded to a request for more detail on the listings it had secured.
In a statement, the group said: "Valio is planning a comprehensive marketing campaign for the introduction of: Valio Gefilus kefir yogurts, Valio Finnish spreadable butters and cheddar with [low-salt ingredient] ValSa and Valio Master Butter Makers butter."
Annabel Karmel launches "mini-bites" range
Staying in the UK, children's food supplier Annabel Karmel is rolling out a two-strong line of chilled "mini-bites".
The company's Annabel's Famous Finger Foods are initially being launched into select Tesco stores in the UK.
The products – Yummy Chicken & Apple Bites and Mighty Meaty Bites – have a recommended retail price of GBP2.30 (US$3.02).