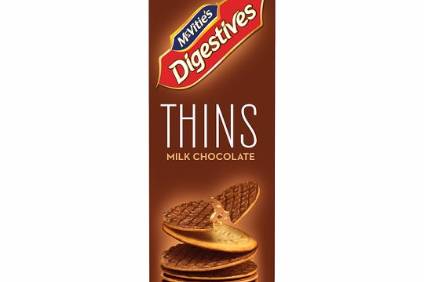 Pladis-owned United Biscuits has launched McVitie's Digestives Thins in the UK in a move aimed at attracting "younger consumers".
Pladis, the UK-based snacks subsidiary of Turkish conglomerate Yildiz Holding, said the new "thin and light biscuit with a delicate crisp", available in Milk Chocolate, Milk Chocolate Cappuccino and Dark Chocolate, will be "McVitie's hero NPD for 2017".
The range has a forecast retail sales value of GBP12m (US$15m) for its first year in market "and marks the business' ongoing commitment to unlocking new occasions and opportunities for growth in the sweet biscuit category", Pladis said.
McVitie's marketing director Kerry Owens said: "We know our consumers look for those opportunities to 'take five' with a little reward to treat themselves. McVitie's Digestives Thins provide just that and we're confident that this new range will delight consumers."
Pladis said the new product will be rolling out from this month at stores including Sainsbury's. Each variant will be available in 180g packs for GBP1.79 (US$2.24).
Earlier this month, Yildiz offloaded part of its majority shareholding in Turkish biscuits business Ülker Bisküvi to Pladis.