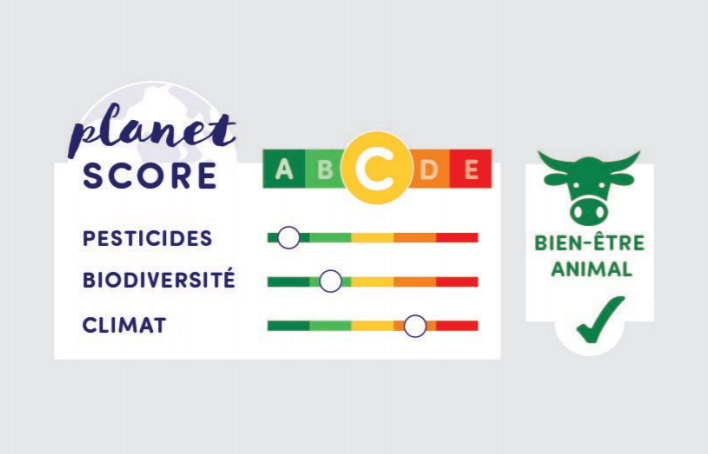 Another eco-label for food products has been devised in Europe, with NGOs and organic-food organisations in France giving their backing to the Planet-Score labelling system.
The proposed Planet-Score label, which has been created in France and put forward for government consideration, follows the test launch of Eco-score and the imminent trial of the Foundation Earth label in the UK.
Belgian food retailer Colruyt and German discounter Lidl are testing the Eco-score label, while later this year, another label, Foundation Earth, will be trialled by businesses including private-label supplier Greencore, UK meat-free firm The Meatless Farm and retailer Marks and Spencer.
The launch of Planet-Score follows a call by the French government last year for voluntary labelling systems to provide consumers information on the environmental impact of products by the end of 2021.
France's Institute of Organic Agriculture and Food (ITAB) announced the creation of Planet-Score, describing the label as "a formidable lever to train the whole of the ecosystem – producers/farmers, processors and retailers – towards more virtuous approaches".
Underpinning the label is a life-cycle analysis ITAB says allows for the environmental impacts of different foods to be measured and displayed through the label. The institute also said the system allows for differences to be made between products in the same category of foods.
The "basic foundation" of the LCA is "supplemented" by indicators of a product's impact from pesticide use, on biodiversity, on the climate and on animal welfare.
According to ITAB, a survey of 1,000 consumers in France showed the label's format "met expectations" on the information they wanted to see on this type of label and would be "far superior to a single environmental score".
ITAB worked with Sayari – a French firm that develops and measures environmental metrics – and Very Good Future, an accelerator "committed to an ecological and societal transition".