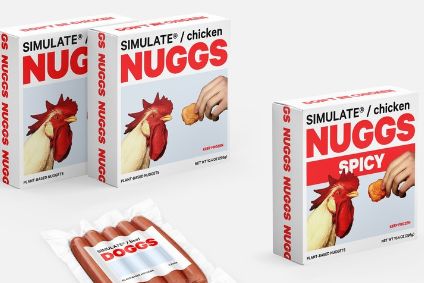 Nuggs, the US plant-based brand set up by young entrepreneur Ben Pasternak, has received further backing from investors to the tune of US$4.1m.
The brand, which calls itself the "Tesla of chicken", has also announced a restructuring which sees Pasternak launching a new parent company called Simulate.
The new funding comes from Lerer Hippeau, AgFunder, Reddit co-founder Alexis Ohanian, former Whole Foods CEO Walter Robb and model Jasmine Tookes and brings the total raised by the New York firm to $11m.
Existing investors include McCain Foods, Rainfall Ventures, Maven Ventures, Nomo Ventures and MTV founder Bob Pittman.
The brand's first product, a faux chicken nugget line also called Nuggs, was launched a year ago.
Under the auspices of new parent Simulate, it is developing new products, including Spicy Nuggs and Doggs, a plant-based hot dog sausage, that will be launched later in the year.
Pasternak said: "We're pumped to launch new nutrition technologies over the next few months under our new parent company, Simulate. Nuggs is just a taste of what the future holds, with new products around the corner."
Meanwhile, Thierry Saint-Denis, formerly senior director of research and innovation at French dairy giant Danone, has joined as the company's chief technology officer. He will be responsible for leading the development of Simulate's new products.
He said was "beyond thrilled to join the Simulate team", adding: "The food system is in need of a complete reinvention and we think the best way to change it is to recreate the products we like, using and advancing what nature gave us with better technology."