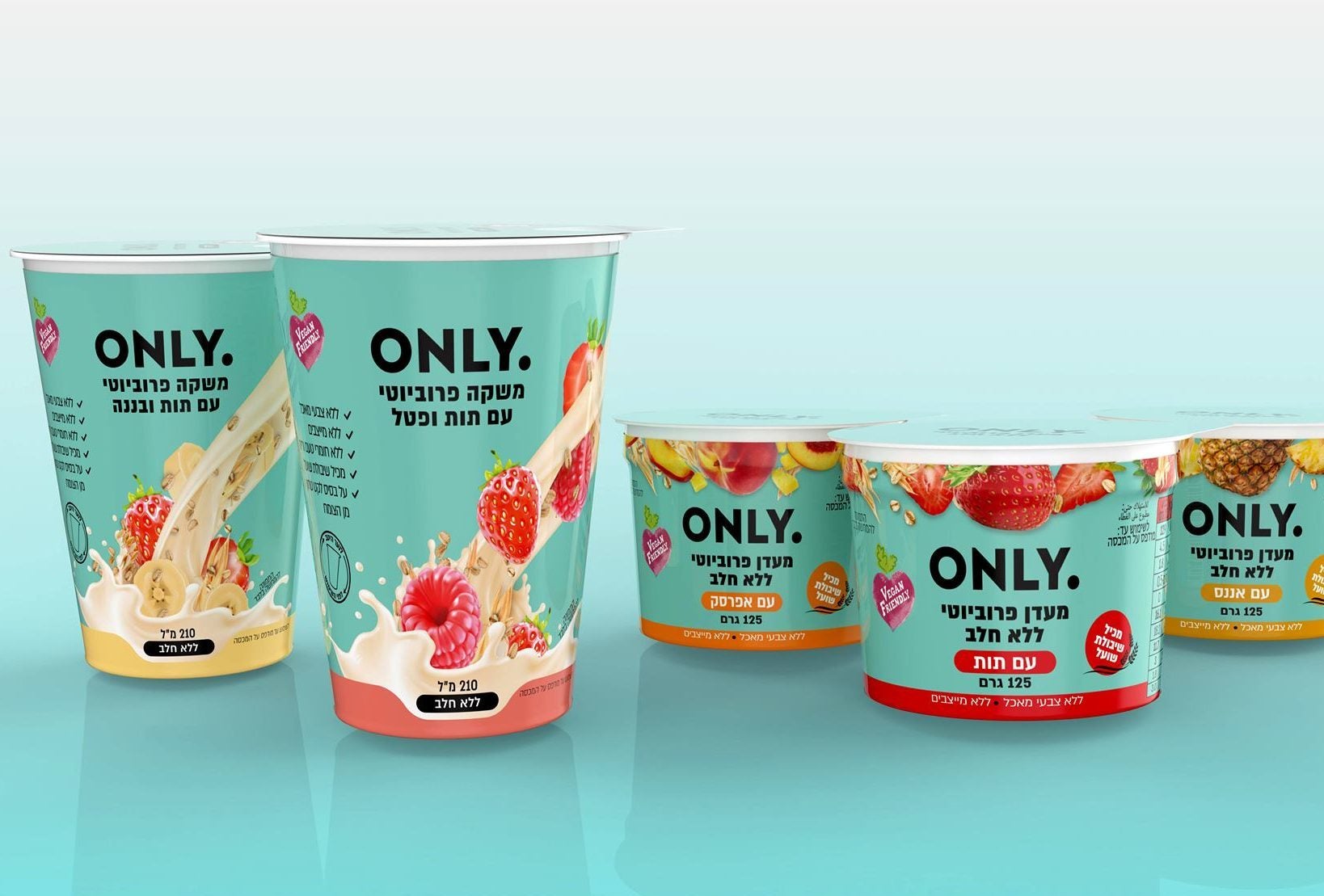 Israel dairy-alternative firm Yofix Probiotics, which counts backers including Unternehmensgruppe Theo Müller and Groupe Bel, is focusing more on building a position as a business-to-business supplier, its chief executive has told Just Food.
Yofix sells plant-based dairy lines under the Only brand at retailers in Israel via a distribution deal with local major food manufacturer – and investor in the company – Strauss Group.
The company touts its "clean-label" positioning, with the products containing oats, legumes and seeds and without colours and stabilisers. Last year, Yofix developed a new brand, Yo'ridge, to be sold in the UK but, after unveiling a prototype, plans for a full launch were put on hold due to the pandemic.
The business has attracted new investors through a round of financing worth US$3.5m. German conglomerate BayWa – which owns a majority stake in New Zealand-listed fresh-produce group T&G Global – and Israel-based food-tech investor Millennium Food-Tech took part in the round, which takes Yofix's funding to date to almost $9m, CEO Steve Grün said.
The fresh investment, he told Just Food, would be used to invest in R&D at a new facility in Israel and to develop its position as a potential B2B supplier of clean-label ingredients and product concepts to food manufacturers and retailers, he added.
"We are looking at a more B2B approach," Grün said. "We're [still] looking at opportunities to do B2C but we're also opening our technology for partnerships. We've got Muller and Bel obviously as companies that could co-operate with us but there are no strings attached with anyone."
Asked if Yofix has any B2B contracts at the moment, he added: "We are moving forwards advancing our B2B approach with leading companies all over the place," he said.
"At this moment, everything is in development, so there are a lot of things happening. We are open to cooperation all over the world, with dairy companies or plant-based companies. We've got a turnkey project of transforming grains and seeds, totally clean label. We're looking, at this moment, one, to do private-label products for big brands and for retail also. Secondly, to co-develop products with big companies."
Grün said the strategy marked a pivot in the company's strategy, although it is still "open" to growing its B2C business.
"We are not neglecting the B2C if we've got great opportunities [but] we want to use the, let's say, judo wisdom about using the power and the strength of the partner," he said.
"If we can combine our forces with a big multinational that has got the best distribution and we can be their favourite partner to work on projects, this is something that is really in our DNA."
Grün insisted the pandemic meant it was difficult to expand Yofix's B2C business outside Israel. "Our [UK] launch was on a small scale, a large proof of concept. Obviously, with the Covid situation, I decided to freeze the operations there. Last year, all buyers were working from home and new product launches were delayed. We decided, instead of burning too much cash in doing too many promotions and advertising, to postpone the thing," he explained.
"The beautiful thing about a start-up company is to be resilient and flexible. At this moment, when we see that big companies are also progressing in their appetites for plant-based launches, it would be foolish just to think that we can do everything by ourselves.
"The most intelligent thing to do is combine our forces with big companies, because we've got this disruptive technology, and we see that we've got really a totally different approach than other companies that are shortcutting and still putting in all kinds of chemicals and additives in the products. We are still working on a totally clean-label base."
Grün declined to comment on Yofix's forecasts for sales and profits in 2021.