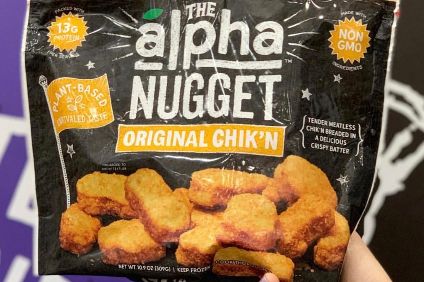 American plant-based meals business Alpha Foods has been backed to the tune of US$7m by investors.
The seed funding round was led by New Crop Capital and AccelFoods.
Los Angeles-based Alpha Foods said it intends to use the money to expand the brand's reach and "lead a new frontier in plant-based eating".
Alpha was founded in 2015 with "a mission for bringing clean and sustainable plant-based proteins to consumers in a convenient way that is meatless and mouthwatering".
Its products, made using non-GMO ingredients, include burritos, pot pies, chik'n nuggets, and tamales.
Its brand portfolio features 20 products that are currently available in more than 6,000 stores in the US, including Walmart, Kroger, Publix and Wegmans.
Loren Wallis, co-founder and CEO of Alpha Foods, said. "As we continue to expand and reach more consumers, our mission remains the same – to help vegans and non-vegans alike make small changes for their health and the environment by providing unrivaled plant-based taste.
"We feel so fortunate to have found outstanding partners in New Crop and AccelFoods to help propel our brand in this next chapter."
Jordan Gaspar, managing partner of AccelFoods, said: "We partner with founders that are truly disrupting the norm without sacrificing quality or taste.
"Alpha Foods' commitment to creating delicious and convenient meals affords both meat and non-meat eaters the opportunity to make small, yet sustainable, changes that positively impact the larger food ecosystem."