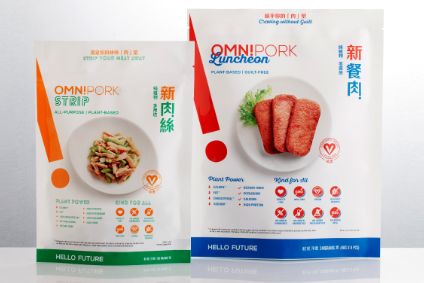 Green Monday Holdings, a plant-based start-up in Hong Kong, has raised US$70m from a group of investors to expand R&D and its presence in retail.
The funding round was led by San Francisco-based private-equity firm TPG via its The Rise Fund and Hong Kong corporate Swire Pacific – which part-owns the Cathay Pacific airline – according to a statement from the OmniPork brand owner today (22 September). The company also operates plant-based food stores and restaurants under the name of Green Common.
Green Monday Holdings said the fundraising was the largest of its kind in Asia and its fourth investment round to date.
David Yeung, Green Monday Group's co-founder and chief executive, said: "We are delighted to be partnering with global leading institutions and investors who share our vision and are aligned in solving some of the planet's most imminent challenges like climate change, public health and food crises not only here in Asia but also worldwide. Now with TPG's The Rise Fund, Swire Pacific and our other mission-aligned partners, we are another step closer to achieving our common goals."
New investors in the round included Jefferies Group, Sino Group's Ng Family Trust, Taiwanese-American pop star and actor Wang Leehom and CPT Capital, the investment arm of the family office of UK businessman Jeremy Coller. They join existing investors including Lee Kum Kee Health Products Group's Happiness Capital, as well as individual investors like James Cameron, Mary McCartney and Susan Rockefeller.
Green Monday supplies markets in Asia, and also the US and the UK, according to its website.
Yeung said the company also plans to use the funds to expand from ten markets to more than 20 in Asia, Europe, the Middle East and Africa (EMEA) and North America to "capture market growth potential".
It also plans to open its first Green Common store in Shanghai by the end of the year and one in Singapore in the first quarter of next year, according to Hong Kong's South China Morning Post.
David Cogman, development director at Swire Pacific, said: "What excites us about Green Monday is that it's a company with a vision and mission that we share. Our airline Cathay Pacific has been serving OmniPork on board and we look forward to working together further to develop new menus to suit the taste of our passengers – many of whom have a deep interest in health, wellness and environmental sustainability.
"We are also in discussion about working together on the retail front: we have a network of malls, hotels and food and beverage businesses in Hong Kong and on the Chinese mainland, as well as associated supply chain operations across the country."