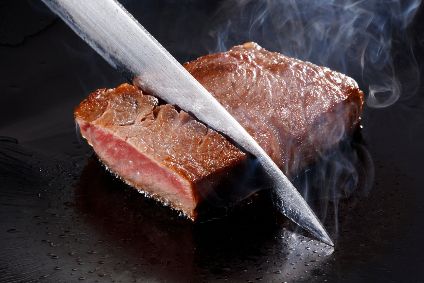 Just, the US plant-based firm formerly known as Hampton Creek, is looking to add another lab-grown or "cultured" food to its portfolio.
The company is to work with Toriyama, a producer of Wagyu beef and Singapore-based Awano Food Group, supplier of meat and seafood, to develop and market a cell-cultured version of the upmarket Japanese beef.
Just is aiming to develop the Wagyu 'beef' from Toriyama cells. Awano, Toriyama's export agent, will market and sell the meat. The distributor already handles the Just Egg, a substitute for conventional eggs the US firm launched last year.
Asked for a timetable for when R&D could start and when products could hit the market, a Just spokesperson said: "We just signed the partnership with Toriyama and Awano a few weeks ago. We're eager to get to work but don't have a timeline to share quite yet."
"Precious few have had the chance to experience umami Wagyu and we hope this partnership allows more restaurants to share Toriyama beef and its story in a new, exciting way," Just co-founder and CEO Josh Tetrick said in a statement.
Makoto Toriyama, the CEO of Toriyama, described Wagyu as "a symbolic ingredient in Japanese culinary culture".
He added: "Our embrace of science and technology has allowed us to produce unparalleled umami beef and the kind of technology developed by Just has the potential to bring about a fascinating new era of more sustainable meat production."
Awano COO Rod Martin also indicated sustainability was behind the company's interest in the project. "As a forward-thinking purveyor of high-end meats, Awano has gained ground in some of the fastest animal protein consumption markets in the world. In order for us to satisfy the needs of our customers for generations to come and manage environmental and animal welfare implications of increased meat production and consumption, partnerships like this one will be critical."