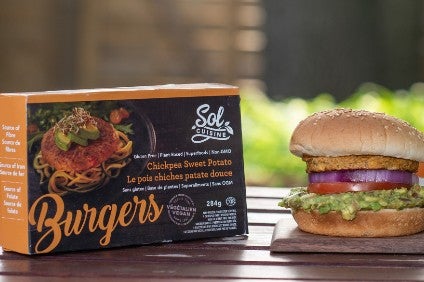 Sol Cuisine, a plant-based foods manufacturer in Canada, has received another round of funding led by the venture capital arm of the country's BDC bank.
The US$10m in financing headed by BDC Capital's Industrial Innovation Venture Fund will be used to expand distribution in Canada and the US, for marketing purposes and for capital investment in its factory in Mississauga, Ontario, to support future growth, a spokesperson confirmed to just-food, adding that the business had previously secured three rounds of funding.
Sol Cuisine was founded in 1996 by Dror Balshine, who is company president, and produces a range of meat-free appetisers, entrées, vegetarian burgers and tofu for the retail and foodservice channels that are non-GMO, organic and free-from wheat and gluten. The company has just launched spinach and chic pea bites, black bean bites, crispy tempura fillets and chicken bites.
BDC was joined in the investment round by existing investors EDC, New Acres, InvestEco and Planted Power, along with Sol Cuisine's chairman Mike Fata and chief executive John Flanagan. The company spokesperson said BDC is its largest shareholder but does not hold a majority stake in the business, which is focused on the Canadian and US markets with no plans at this stage to expand further afield.
Flanagan said in a statement: "Sol Cuisine is thrilled to partner with BDC Capital. This investment, combined with our talented management team and newly expanded SQF GFSI-certified manufacturing facility, will enable us to share Sol Cuisine's exceptional products with more consumers, or as we like to say, our Sol Mates."
Sol Cuisine's products are currently available in more than 4,000 locations, including Whole Foods, Albertsons, Safeway, Target, Kroger, Loblaws, Sobeys and Metro.
Jonathan Goodkey, a principal with the Industrial Innovation Venture Fund, will be joining the Sol Cuisine board of directors.
Joe Regan, a managing partner for the fund, said: "Consumers' interest in plant-based protein foods continues to increase and we believe that Sol Cuisine is well positioned for continued rapid growth."