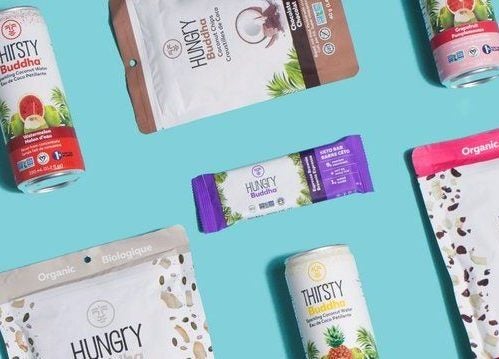 Buddha Brands, a Canadian plant-based snack bar maker, has received CAD3m (US$2.4m) in funding to expand distribution in the US, a market it entered last year.
BDC Capital, the investment arm of Canada's BDC bank, which is focused on supporting entrepreneurial businesses, supplied the funding along with financing company Investissement Quebec.
The company's Hungry Buddha keto snack bars incorporate powdered pea protein offering ten grams per serving. The bars are made using MCT oil, or medium-chain triglycerides fats found in coconut oil, instead of palm oil. They are free-from gluten, GMOs, dairy, soy, nuts and artificial sweeteners.
Buddha Brands, which is based in Quebec, also produces a range of coconut waters, either plain, with pulp or with aloe vera, as well as a sparkling variety.
Co-founder and chief executive Chris Magnone said: "Our goal from the beginning was to get our business to a specific stage before taking outside capital in order to push ourselves to be strategic, thoughtful and impactful with the funds we had.
"My co-founders and I started Buddha Brands with all of our savings and have been purposely self-funded from the start, so we are thrilled to have this support from BDC Capital and Investissement Quebec."
The bars are stocked in independent retailers and grocers in Canada and the US, including Sprouts, Costco, Wegmans, Whole Foods, Thrive Market, Loblaws and online at Amazon. The acquired funds will support expansion in the US via sales and marketing efforts and also to finance new product development.
"This investment comes at the perfect moment for us, giving us the opportunity to further increase our velocity and distribution, support the retailers who have supported us, invest in our team, and generate more market awareness of our low-sugar, clean ingredients, plant-powered foods that not only taste good, but make you feel good," Magnone added.
Hungry Buddha bars are also made with sunflower seeds and monk fruit and are available in four flavours: Chocolate Chip, Coconut Cocoa, Espresso Brownie and Triple Chocolate.
"We are very enthusiastic to support Buddha Brands through the next stage of their growth and are confident in the leadership team's ability to continue to disrupt the growing better-for-you food and beverage industry with their innovative products," Mathieu Rinaldi, a director of growth and transition capital at BDC Capital, said in a statement.