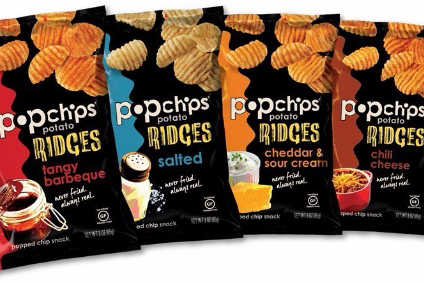 Popchips, the US snacks maker, has launched Ridges, a range the company claims offers "big crunch and bold flavour" but with less calories than rival products.
The Ridges crisps contain 72% less fat and 55% less calories "than the leading ridges chip brand", Popchips said. It did not identify the product with which it compared fat and calories.
The new Ridges line will roll out to retailers nationwide in June in four flavours: salted, tangy barbeque, cheddar & sour cream and chili cheese. The snacks will be available in single-serve ba and share bags.
"The new Ridges product was created to appeal to consumers who love crunch in their chips," Popchips CEO Dave Ritterbush said. "The texture of Ridges allows the boldness of our flavors to shine and delivers a big crunch you wouldn't expect from a chip that is never deep fried. For the first time ever, there's a big crunch, bold flavor ridged chip that tastes every bit as good as deep fried but with significantly less fat and calories."