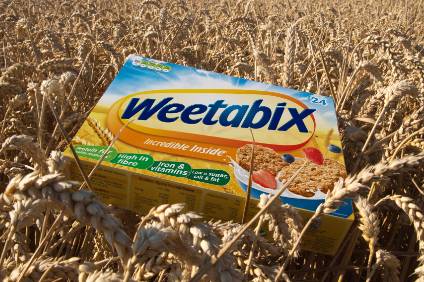 US breakfast cereal business Post Holdings is reportedly set to buy UK peer Weetabix, with a GBP1bn-plus (US$1.2bn) deal that could be announced this week.
The UK's Daily Telegraph today (28 March) reported Post, the owner of the Grape Nuts and Honey Bunches of Oats brands, was close to sealing the purchase of Weetabix after other bidders dropped out of an auction.
Post and Weetabix had not responded to just-food's requests for comment at time of press.
Earlier this month, Sky News claimed Post was one of two bidders left in the race to buy Weetabix and "running hard" to try and seal the deal. That report did not name the other suitor still in the hunt. However, sources told Sky News companies previously said to be interested in Weetabix – Associated British Foods, Barilla and Kellogg – were no longer involved.
Speculation over the future of Weetabix emerged before Christmas, when Reuters reported Bright Food, the state-backed Chinese group and majority shareholder of the business, was looking to sell its stake. However, China Daily subsequently quoted a Bright Food spokesperson as saying no deal was taking place.