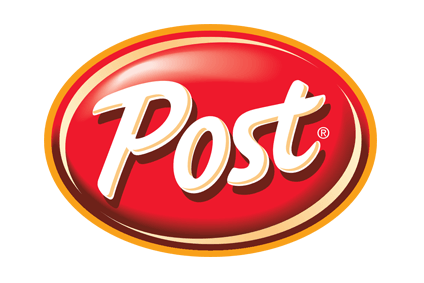 Post Holdings, the US breakfast cereal, eggs, cheese and sports nutrition business, has indicated it is looking for acquisition targets that are closer to its existing assets after a series of deals in different categories.
M&A has been central to the growth of Post since, as a branded breakfast cereal business, it was spun off by US food group Ralcorp Holdings in 2012. After a number of deals, Post's portfolio includes products like Dymatize whey powder and Simply Potatoes, as well as breakfast cereal like Honey Bunches of Oats cereal.
Post's last acquisition came in late September 2015, with the purchase of US egg producer and distributor Willamette Egg Farms.
Speaking to analysts on Friday to discuss Post's financial results for the fourth quarter and year to the end of September, CEO Rob Vitale said the company M&A remained "a central theme to Post's strategy" and revealed the group had spent US$6m in the financial year under review on "exploring acquisition candidates".
However, Vitale indicated there had been a "nuance" Post's acquisition strategy. "Where in the first several years of our corporate evolution, we cast a wider net, looking at platforms, looking at opportunities that would be new channels or new product categories for us – i.e. Michael Foods – as our portfolio has grown and matured and has had internal success, what we are doing is narrowing our focus to where we have the opportunity to really drive competitive advantage within, advantages within our portfolio," Vitale said. "So it has made the M&A pipeline more narrow, but deeper. Now, I don't want to leave you with the impression that we would not add a platform opportunity, if it came along and made sense. We would do so. But the more near-in and attractive opportunities, are things that have some nexus to our portfolio."
Vitale added: "Acquisitions that makes sense on paper, don't get done for any one of several reasons: whether it's ultimately valuation or operational intensity or specific risks identified. There could be any number of reasons and I think we do want to acquire, but we want to acquire the right assets at the right price.
"Be assured, we will continue to work to find opportunities at a sensible value. Our capital structure remains quite liquid. At year end, we had cash on hand of $1.1 billion. We are more accepting of leverage than most. Nevertheless, our net leverage ratio was a modest 3.7x and our debt is 100% fixed rate. In short, we are confident in our ability to identify and execute opportunities in a dynamic environment and we have the patience to allow them to develop."
On Thursday, Post booked lower annual losses on the back of higher sales but the company saw its top line decline in the fourth quarter.
The Grape Nuts cereal owner recorded a loss of US$3.3m for the year to the end of September, down from $115.3m a year ago.
Post's operating income jumped more than 156% to $545.7m. Adjusted EBITDA stood at $933.9m, up 42.1% on the year.
For the year ahead, Post forecast adjusted EBITDA of $910-950m. It predicted an estimated "significant decline" in adjusted EBITDA from Michael Foods Group, which it said would be offset in the consumer brands division, growth from Active Nutrition, the company lapping $50m in investment in brands and "above-target" incentive compensation last year.
Asked to posit what factors could see Post come in at the lower end of that range, Vitale said highlighted the company's Michael Foods Group division, which has been affected by avian influenza in recent months. "We are as a result of exiting avian influenza in a year in which Michael has a higher than ordinary level of volatility, so we factored that into both our guidance and the establishment of the range. So, with respect to what could cause us to be on the lower side, higher volatility from our expectation, changes in the competitive environment in the cereal business or really in any of our business are the key components of being on the low or high side of the range."