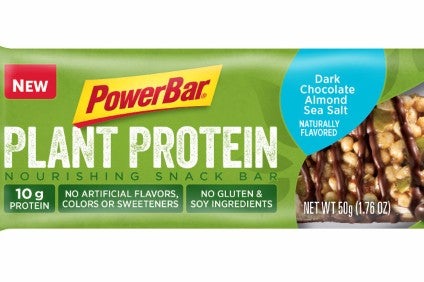 Post Holdings is launching a plant-based PowerBar in the US to try to cash in on growing interest in vegetarianism.
Made with around 10g of protein, Plant Protein Bars are described by the company as "a flavourful and great tasting option not typically seen in the plant protein category."
"When deciding to formulate our first ever plant-protein bar, taste was the number one priority," confirmed Jeremy Hardwick, product development manager of R&D at Post's Premier Nutrition arm.
At the start of the year, the company kicked off its "Clean Start" campaign, by reformulating its products in line with consumer demand for high-quality ingredients, lon-lasting energy and improved on-trend nutrition, according to Premier Nutrition's vice president of marketing Doug Cornille.
"Our new Plant Protein Bars reinforce our mission to diversify our product portfolio and offer better tasting products for all active sports players," Cornille said. "In the past, the plant protein bar category has fallen short when it comes to great tasting products, and PowerBar Plant Protein Bars remedy that situation."
The plant-based Protein Bars are made from nuts, nut butters, pumpkin seeds, crisped peas and rice, and dipped in dark chocolate. They come in three varieties: an almond sea salt line containing 10g of almond protein; a peanut butter version with 11g of protein; and a salted caramel cashew bar, containing 10g of cashew protein. The salted caramel cashew bar contains dairy, Post emphasised.
All of the bars contain around 7g of fibre, are free from gluten or soy, and two are dairy free.

Earlier this year, Hormel Foods, makers of the Muscle Milk protein drink brand, developed its first plant-based line, Evolve, a plant-based vegan drink, with bars on the horizon.

In March, General Mills invested a "significant sum" into its D's Naturals, the plant-based protein bars.

According to data from Innova Market Insights, there was a 60% rise in the number of global food and drink launches using a vegetarian claim between 2011 and 2015 as flexitarian lifestyles, where diets largely, but not exclusively, cut out meat, become more prevalent.