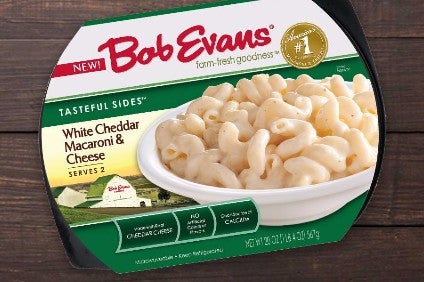 US-based breakfast cereal, sports nutrition and eggs supplier Post Holdings is to buy local chilled and frozen food maker Bob Evans Farms in a deal worth US$1.5bn.
The transaction, in which Post, the owner of brands including Weetabix breakfast cereal, will pay US$77 for each Bob Evans' share, is expected to be completed in the first quarter of 2018, subject to approvals. The company expects to finance the purchase with cash on hand and through borrowings under an existing credit facility, according to a statement today (19 September).
Post said Bob Evans' brands of Owens, Country Creek and Pineland Farms would "complement" its own refrigerated side dishes and give it a presence in breakfast sausage and commercial foodservice.
Rob Vitale, the president and CEO of Post, said: "We have enormous respect for Bob Evans' success and are excited about the growth opportunities this combination will create. Combining with Bob Evans expands our portfolio of top brands and gives Post a leading position in the perimeter of the store."
Post will establish a refrigerated retail business, which will be led by Mike Townsley, the president and CEO of Bob Evans.
Jim Dwyer will stay as president and CEO of Post's Michael Foods Group, managing the commercial foodservice egg, potato and pasta businesses, which will also include the Bob Evans foodservice business.
Financially, Post's management expects Bob Evans to contribute approximately US$107m of adjusted annual EBITDA – the midpoint of Bob Evans' equivalent fiscal 2018 outlook.
"We are pleased to join the Post family, combining our complementary portfolios to the benefit of all of our stakeholders," Townsley said. "This transaction creates enhanced and certain value for our stockholders, while providing further resources and reach to deliver the Bob Evans experience to a broader audience of consumers and retailers."
The deal comes eight months after Bob Evans Farms sold its restaurant chain to focus on food manufacturing. The company had faced investor pressure to restructure its business, with calls to spin off manufacturing arm BEF Foods.
In January, the business sold its Bob Evans Restaurants arm to US private-equity firm Golden Gate Capital for US$565m.
The acquisition is the latest to be made by Post, which has built a business largely through M&A. Post's most recent deal came in April when it struck a deal to buy UK breakfast cereal business Weetabix in a deal worth GBP1.4bn (US$1.76bn when the transaction was announced).
Post Holdings discusses rationale for Weetabix – five things to learn
Weetabix's UK chief Sally Abbott sets out stall in tough market and under new owner – interview