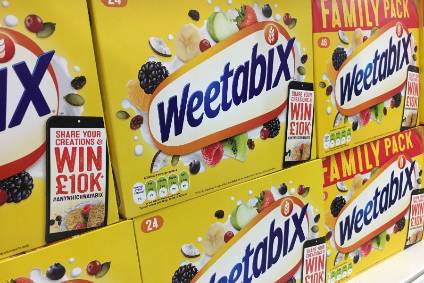 Weetabix, the UK breakfast-cereal business owned by US manufacturer Post Holdings, is recruiting staff as it tries to adapt to the coronavirus outbreak.
The company is adding 90 "temporary roles" to its production workforce in the UK, which equates to "approximately 10% extra staffing", it told just-food.
"These temporary roles are focused on production of our family-favourite cereals, providing shift cover and allowing us to maintain steady supplies to UK retailers," Weetabix said.
Weetabix, acquired by Post in 2017, said it had seen "high demand" for its products. The company added: "We are focusing our resources behind our core operation so that we continue to provide this level of production. We have recruited and trained a significant team of temporary staff to keep up with demand and are pleased to be able to offer this work to our local community, at what is a challenging time for everyone."
The group continued: "We have taken further actions to keep our workforce safe and protect them from the virus. These actions include an increase in cleaning shifts, on-site communication on how to stay safe, social distancing, wherever possible throughout the factory, and we have over 300 employees successfully working from home."