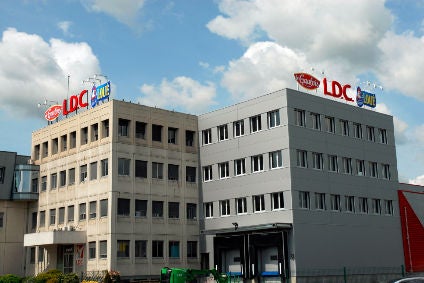 France-based poultry group LDC is investing EUR77m (US$80.4m) to upgrade its two major production plants in western France over the next three years.
The company revealed EUR47m is earmarked for a renovation of LDC's Le Gaulois brand chicken plant in Sablé-sur-Sarthe, where capacity will be doubled for poultry cuts. Meanwhile, EUR30m will be spent to expand and modernise the group's plant in Cavol that turns out Loué brand chicken products.
Work on the plants is due to begin in the first quarter of 2017.
"Poultry cuts are driving growth in the market and we are responding to that in investing in these plants – making them more competitive, improving working conditions for staff and ensuring job security," LDC's president and CEO, Denis Lambert, told just-food. "If the upgrade of these plants allows us to capture new markets then jobs will be created."
This year, LDC has already invested EUR7m in the extension of a plant making processed products such as nuggets and cordon bleu, while its Marie Frais ready meals plant is being enlarged at a cost of EUR9m, Lambert added.