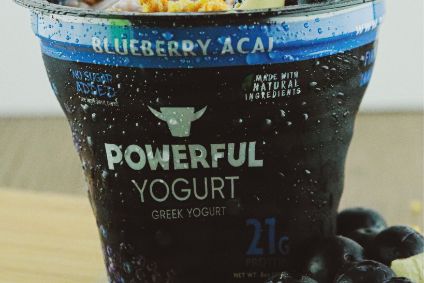 Powerful Foods, the US-based supplier of protein-packed food and beverages, is to quit yogurt, the category in which the company made its debut seven years ago.
The Miami-based business is to focus on its other products, which include oatmeal, smoothies and beverages, founder and CEO Carlos Ramirez said.
"I can't compete with Danone, Chobani and [General Mills-owned] Yoplait on the yogurts," Ramirez told just-food. "It's been super-predatory and these guys are, like, margin margin, margin. Margins are this thin. We're doing really well with the drinks, with the oatmeal. The smoothies, they're different. My bites are different. When I think about it, I'm a little bit sad but, then, I'm in business. I'm really happy that we pivoted a few years ago. What we created is a platform of great-tasting, all-natural, high-protein foods."
Powerful's yogurt is being "phased out", Ramirez said, with the final sales of the product in December. The company is adding to its product range with the launch of a plant-based beverage, centred on pea protein. The drink is being sold through Powerful's direct-to-consumer platform, with Amazon set to stock the product and the company in talks with retailers including Big Y and Shoprite.
Including sales from yogurt, Powerful is "shooting for US$12m" in sales in 2020, Ramirez said. Yogurt, he noted, accounts for around 10% of the company's sales. "Even though I'm dropping yogurt completely from our lives, it's been going down every year. It's not a big component of my revenues right now."
Powerful, Ramirez recounted, seen some volatility in sales during the spring, in the immediate onset of Covid-19, but the company had seen revenues recover to approaching 90% of last year's level.
"At the beginning of the pandemic, March was an incredible month in terms of sales. I reached 115% [on last year]. Everybody's hoarding our products and my sales skyrocketed. April, my sales went down [to] 80% as warehouses concentrated on toilet paper, hand sanitisers. April to now, we've been recovering and now we are at 90%," Ramirez said.
Despite that volatility in sales, Ramirez said he had been able to focus on improving Powerful's profitability following a period for the business in which it was, he added, nearing Chapter 11.
"Last year, I was staring at Chapter 11," Ramirez said. Delays in raising fresh capital pushed up Powerful's debts until, in March this year, received $5m from local investment firm MMG Equity Partners.
"When I raised the capital with these guys, I cleaned out my balance sheet, increased prices and then have now a healthy margin," Ramirez said. Walmart, a major customer for Powerful, had been "amazing", Ramirez revealed, helping the company "with some price adjustments here and there".
He added: "I don't care if [sales] decrease [this year] or we stay flat. What I care most is to take care of my EBITDA by the end of the year. We are EBITDA positive. That was a big turnaround. Generally last year because of a lot of issues, we were at low twenties, high teens in gross margin. That's what was scaring me. Every time I sold more, the hole was bigger. Today we are closer to 40%, a year after. A lot of that is to do with the help we got from Walmart and the big guys."
In 2021, Powerful plans to continue to invest in e-commerce, with Ramirez having a target for 40% of the company's sales to come away from brick-and-mortar. The business is also investing in marketing and has announced a sponsorship deal with Inter Miami, the new US soccer team set up by former England and Manchester United footballer David Beckham.
"The company's in a better position," Ramirez said. "Last year, my head was not clear when I had to, say, spend 50% of my time raising capital, talking to investors and getting rid of debt. Now that 50% is dedicated to the business fully. The business in itself is in a better place."
just-food interview pages: Covid-19 – US manufacturers talk trading, the economy and consumers