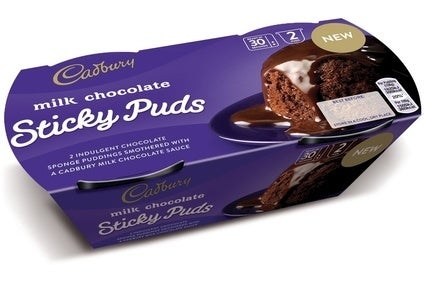 Premier Foods plc hopes to grow in the UK's ambient dessert category by launching sponge pudding products under the Cadbury and Mr Kipling brands.
The company is expanding the Cadbury brand, for which it has a licence from Mondelez International, into the sponge pudding sector with Cadbury Sticky Puds. The new line consists of two flavours: Cadbury milk chocolate sticky puds and Cadbury fudge sticky puds.
Premier is also adding to its Mr Kipling line-up, which already leads the sponge pudding sector accounting for five of the top ten products by sales. Premier is rolling out a Mr Kipling cherry bakewell flavour.
"We have attracted new shoppers to the category with our Mr. Kipling Sponge Puddings and are now looking to strengthen our momentum with interesting NPD, across both Cadbury and Mr Kipling, which targets shoppers on the look-out for the quality and taste of a trusted brand," Matthew Critchley, category marketing director for desserts and homebaking at Premier, said.