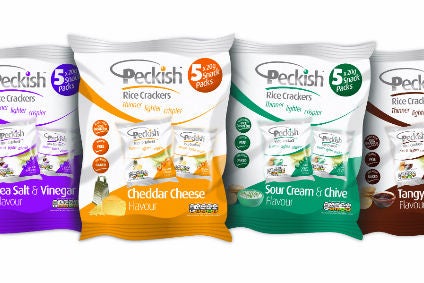 UK food maker Premier Foods plc is working to grow sales of gluten-free snacks in the UK to capitalize on the rising number of consumers who are cutting gluten from their diets.

The Peckish snacks are made from rice bran oil and are baked, not fried. Created by Premier Food's Australian partner Menora Foods, the snacks come in four flavours; Cheddar Cheese, Sea Salt & Vinegar, Sour Cream & Chive and Tangy BBQ.

Premier revealed a team from Premier Foods has been conducting in-store sampling in Tesco, to help boost consumer awareness of the range, as well as helping to secure premium aisle space for the brand which has been repackaged to ensure maximum on-shelf impact.

At less than 90 calories per portion, Premier Foods claims that Peckish is a good choice for the growing number of consumers on the lookout for healthier snacks.

"The healthier and rice snack sectors account for 60% of total savoury snacks growth," said marketing controller Andy Smith. "As a gluten-free, baked rice product that already has a loyal following, Peckish is perfectly placed to help retailers meet the consumer demand for lighter options."

Peckish is already the number one rice cracker brand in Australia and New Zealand and the brand continues to gain traction in the UK.