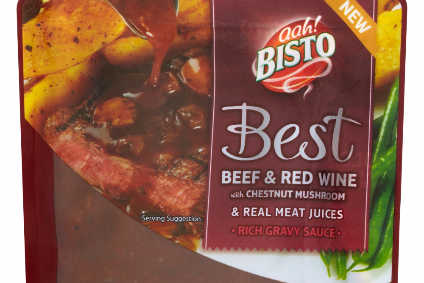 Premier Foods plc has developed ready-to-use gravy sauces under the Bisto brand in the UK in a bid to target consumers wanting more convenient products.
The gravies – marketed under the Bisto Best sub-brand – are sold in pouches and comes in three flavours: beef and red wine, with chestnut mushroom, red onion and ale and chicken and thyme.
Premier said the products would be launched in "major mults" in the UK without specifying further.
The development of the gravies is part of a GBP9.5m (US$12.3m) investment programme Premier has undertaken to increase its sales in the wider UK flavourings and seasonings category. The company is extending its Oxo Stock Pot range with a new lamb flavour. Both brands will be supported by TV ads in October.
Helen Touchais, brand director for flavouring and seasonings at Premier, said: "Bisto Best is already driving growth of 5% year on year in added-value gravy, which demonstrates an appetite for premium products in the market. With more shoppers trading up the range is becoming a must stock, as the basket spend of consumers who purchase Bisto Best is worth 22.5% more over standard Bisto buyers each year."
She added: "Oxo Stock Pots is worth GBP2.3m in its first 10 months in-market, and data shows us that 33% of buyers are new to this category. With wet stock in growth by 7% year-on-year, we expect the new flavour will help encourage shoppers to trade up."
Premier, meanwhile, this week hosted UK food minister George Eustice at a plant in Devon, in south-west England, where the company manufactures products under its Ambrosia brand.
The group was highlighting its investment in the facility. It has recently spent GBP12m at the site to improve equipment. The move created 20 jobs.