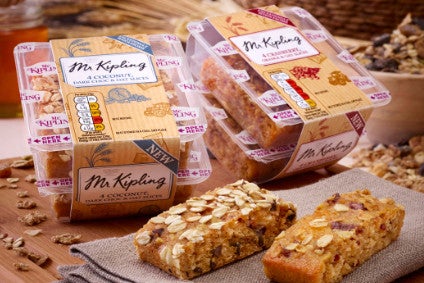 Premier Foods revealed a stronger finish to 2015, with the growth in sales of branded and non-branded products accelerating in the fourth quarter.
The UK company said sales in the quarter to 2 April rose 1.4%, with branded sales up 1%. For the full year, sales increased 0.6% to GBP683.4m (US$992m) on flat branded sales, the maker of Mr Kipling cakes and Bisto gravy products revealed this morning (17 May).
"We are very pleased to report sales growth both in the year and the fourth quarter in what continues to be a deflationary market. Our strategy of investing behind our brands and bringing new innovative products to market continues to deliver very positive results, with six of our major brands growing on average 3.4% in the year," chief executive Gavin Darby said.
Sales of Bisto, Oxo, Loyd Grossman, Sharwood's, Mr Kipling and Cadbury cakes all grew, which Premier said supported the group's marketing and innovation strategy. However, Ambrosia and Batchelors, Premier's other two major brands, saw sales decline by 2.9% in the year. Premier said it plans to step up activity behind these brands over the coming 12 months.
The group said trading profit in the 12 month period totalled GBP131m, flat year-on-year as the company was able to offset depreciation and an increased investment in marketing, which was 10% higher than last year.
Premier reported an operating profit for the year of GBP54.5m, set against an operating loss of GBP44.1m for the comparative period. Before impairment and losses on disposal of operations, the group delivered an operating profit of GBP68.1m in the year, compared to GBP45.8m for the period ended 4 April 2015. The improvement was the result of lower impairment charges and lower interest expense. EBITDA rose to GBP147.1m, up from GBP144.9m, and net profit totalled GBP29.2m versus a net loss of GBP123.6m in the prior year.
Premier, which recently rejected a takeover approach from US spice maker McCormick & Co., stressed its positive growth outlook and confirmed increased marketing spending is expected to support sales growth of 2-4% on a group wide basis in fiscal 2016/17.
At the time of the takeover battle, Premier detailed a strategy it argued would speed sales growth. The moves include "building on" the "successful trial" of Mr Kipling and Cadbury cake lines, taking grocery brands into chilled aisles and growing its business outside the UK through its cake brands. The company also entered into a strategic partnership with Japanese food giant Nissin Foods Holdings, which includes co-operation in areas such as distribution and innovation.
"We recently set out some additional strategic initiatives which we believe will further accelerate our growth and now expect to deliver sales growth of 2-4% in both FY16/17 and the medium term. The potential opportunities presented by our partnership with Nissin are also very exciting," Darby said this morning.
Amid the takeover interest from McCormick, Nissin acquired shares worth 19.9% of Premier. Alongside this morning's results, Premier said Tsunao Kijima, a managing director at Nissin leading the company's US business, would take a seat on the UK group's board in July.
With higher sales and operating profit for the fourth quarter, Jeffries analyst Martin Deboo suggested that could represent a "virtuous circle" of top and bottom line growth "emerging at last".
He wrote in an investor note: "Fiscal 2016 has finished strongly, and well ahead of our Q4 forecasts, with underlying momentum accelerating. With EBITDA excluding central costs ahead 3%, we think we see signs of a hitherto-elusive virtuous circle of top line and bottom line growth emerging, with further efficiency gains promised in FY17. The key is now to sustain this momentum."