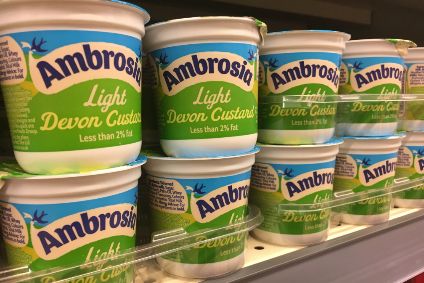 UK manufacturer Premier Foods has called off the planned sale of its Ambrosia brand.
Premier, which is being run by acting chief executive and finance chief Alastair Murray after long-time CEO Gavin Darby departed in January, said it had engaged in "detailed discussions with a small group of potential buyers" since it put Ambrosia up for sale last November.
However, in a filing with the London Stock Exchange today (15 February), Premier said: "The board has concluded that in the present business climate the process will not result in a satisfactory financial outcome. As a result, these discussions have now concluded."
The planned disposal of Ambrosia was part of Darby's strategy to sell off parts of the business in order to focus on areas that have the "most potential", and also to raise funds to pay down debt and invest further in the company. In November, the former CEO had said the brand would need two to three years investment to turn it around, and therefore might be better served by another company.
A key part of Darby's philosophy was to reduce the debt-to-EBITDA ratio to below three times by 2020, and he had already enjoyed some success in doing that before his departure. The ratio stood at around six times when he joined the firm in 2013.
Premier had predicted its debt pile would drop below GBP500m before the end of its current financial year from around GBP510m at the half-year stage.
Darby's departure after six years at the helm followed a battle over Premier's strategy with activist investor Oasis Management, which during the summer voted against his re-election as CEO.
The Premier chief executive secured enough support at Premier's AGM in July to stay on but, four months later, he announced his decision to stand down.